Senior Care Services for Families in Park La Brea, CA
Comfort Keepers Has Provided Expert Senior Care Services to the Park La Brea, CA area since 2001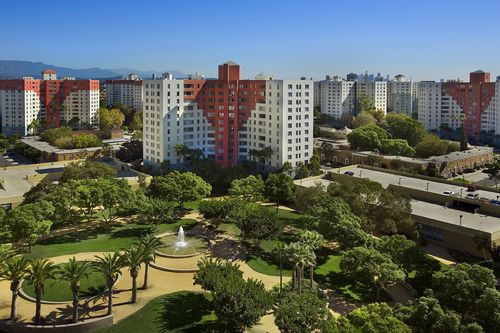 A unique area that we serve is Park La Brea. Literally a stones-throw from our office, Park La Brea is the largest U.S. apartment complex west of the Mississippi. Begun in 1941 and completed in 1948 the property has been coveted by Los Angeles renters for decades. Inspired by the style of the innovative French architect, Le Corbusier, the complex features 18 13-story towers and 31 2-story buildings and offers more than 4,000 rentable units on 160 acres of beautifully landscaped grounds. Park La Brea is practically a city unto itself, with its own community center boasting a health club and multiple swimming pools. The complex also sports a dry cleaner and a beauty salon on site. Park La Brea is more than just a sprawling apartment property; it's a wonderful place to call home.
Our Care Services in Park La Brea
At Comfort Keepers, we approach caregiving interactively. This means that we adapt to our clients' needs and partner with them to engage with their environment. We accompany clients through activities that they like to do at their comfort level, helping them to continue to be involved and independent. This kind of adaptive senior care helps our clients stay active, healthy, and happy. We provide personal care and transportation for our clients, and we stand ready to satisfy our clients' current and future needs. Our services include personal care and companion services like light housekeeping and cooking as well as extended senior care services, which can include 24/7 care and Alzheimer's support. 
Our clients enjoy visiting areas of Los Angeles surrounding the complex where they find a vast array of entertainment choices. Park La Brea is within easy walking distance to some of L.A.'s best museums, shopping, fine and casual dining, and the famous Farmer's Market. Regardless of the activity, we are here to help our clients to be a part of their communities. 
Community Involvement and Health Care Affiliations
Seniors and other adults have the opportunity to take advantage of the resources that Los Angeles provides its residents. These resources include hospitals, extended care facilities, and hospices that can help give our clients access to some of the best healthcare available. We work with a number of these facilities, including St. Vincente, Hancock Rehabilitation, Windsor, and Country Villa. Many of these facilities have been in operation for decades and have teams in place that know how to provide the best care. 
We are involved with public service departments and other agencies that specialize in senior living. The city of Los Angeles is known for having numerous organizations that help seniors live easier, fuller lives. One of these is the Los Angeles Department of Aging. 
To learn more about the senior care services we provide in Park La Brea, CA and the surrounding areas, please contact us online or call us today at (323) 430-9803.