Senior Home Health Care in Lake Elmo, MN
If you're looking for reliable, high-quality in-home care for your aging loved one, look no further than Comfort Keepers.
We make caring for an aging loved one easier on you and better for them. Our personalized care programs ensure that your senior feels comfortable, supported, informed and connected in their own home.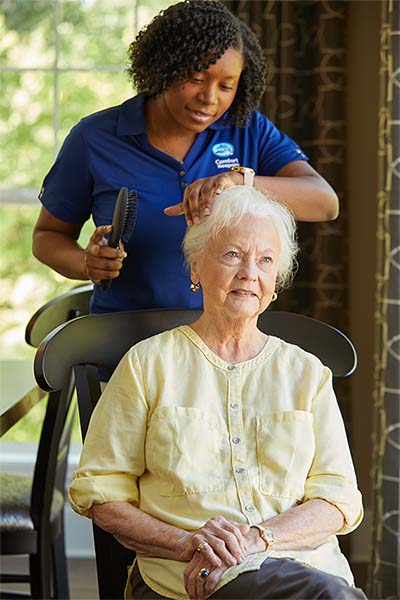 Comfort Keepers provides a variety of senior home health care in Lake Elmo, MN that can meet the unique needs of seniors. Our caregivers are trained to provide assistance with activities of daily living, such as bathing, dressing, and grooming. We can also help with light housekeeping, errands, and transportation.
We're here when you need us most. Using a holistic approach to care management that addresses the physical, emotional and social issues associated with aging in place, we can help improve your senior's quality of life.
Our mission is to provide top tier care to the seniors in our community, all the while assisting family caregivers in their caregiving journeys.
We work closely with families to ensure each senior's needs are being met. We promote independence and quality of life for our clients by providing compassionate, professional care. We tailor our services to each individual client, ensuring that they receive the exact level of care they need.
What Is Aging in Place?
Aging place is when a senior chooses to remain in their own home and receive the care they need there, instead of moving into some sort of facility.
This helps maintain both a high quality of life for your loved one, as well as a sense of independence and purpose.
Getting to remain in a comfortable space with familiar belongings and routines will leave your senior overall happier in their day-to-day life. Our caregivers can seamlessly integrate into their routines to help offer them the care they need – all in the comforts of their own home!
Why Should I Hire In-Home Care?
Family caregivers work hard, and we can help take some of that load off their shoulders.
While family caregivers are caring for children, working jobs or even just taking respite care for themselves, we will be there every step of the way to fill in the gaps and ensure their loved one is being loved after with compassion and care.
What Kinds of Services Do You Provide?
Anything your senior needs help with on a daily basis (acts of daily living, or ADLs), we can assist with!
This includes, but is not limited to:
Bathing and Hygiene Assistance
Meal preparation
Dementia care
Medication reminders
Grocery shopping
Companionship
And more!
What Makes Comfort Keepers Special?
Compared to privately hired caregivers, all of our team members are thoroughly vetted to ensure the safety and wellbeing of your senior under our care.
If your particular Comfort Keeper caregiver needs to call in sick or cancel their shift, our flexible team of caregivers can help cover their shift, ensuring that you are not left without care for your loved one.
We are available to provide care at any time – even on weekends and holidays!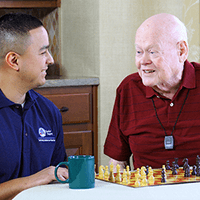 If you're looking for in-home senior care in Lake Elmo, MN Comfort Keepers is here to help. Our main purpose is to support seniors aging in place, all the while providing support for family caregivers. We work with families to curate personalized care plans for each unique need and situation. Comfort Keepers not only provide quality in home care but also senior companionship and we can help keep your senior active,
If you are interested in learning more about our senior home health care services in Lake Elmo, MN, contact us today. We will be happy to answer any questions you may have and schedule a free in-home consultation. We look forward to meeting you and helping you or your loved one maintain a high quality of life.
Contact us today online or call (715) 381-6730 for more information or to request a free in home assessment.