End of Life Care in Bayport, MN
Few situations are as challenging for families as when facing end of life of a loved one. Comfort Keepers of Bayport, MN has a compassionate team of caregivers who are devoted to helping you through these difficult times. We would like to support you and care for your loved one in order to optimize the time you have together.
Top quality in-home care will ease your stress and help you focus on what is important through the end of life stage. As physical care of your loved one becomes increasingly demanding and your emotional well-being is reduced, you need help. Comfort Keepers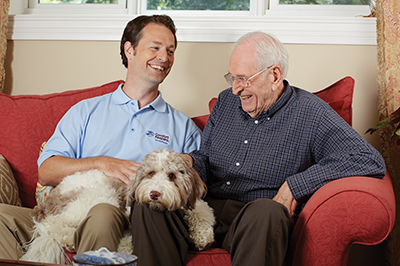 of Bayport, MN provides caregivers to ease your burden and offer moral support. We offer peace of mind for the entire family and award winning care to your Bayport, MN loved one. Our goal is to help you throughout the situation in any way possible with comprehensive in-home care.
Comfort Keepers of Bayport, MN can assist with housekeeping, meal preparation, or the personal care of your loved one. We understand that you need time to rest or attend to other duties. When you are with your loved one, we want you to be able to simply focus on each other. Leave the work to us.
As the needs of your loved one increase, their care may become overwhelming for a family caregiver. Comfort Keepers offers in-home caregiving as temporary respite or up to 24 hours each day to meet the needs of your family. We are the most trusted name for in-home care in Bayport, MN.
If your senior loved one in Bayport, MN requires end of life care, choose Comfort Keepers as your partner in providing them with quality in-home care. Contact Comfort Keepers of Bayport, MN at (715) 381-6730 for a free in-home consultation.