In Home Care
2017 Employer of Choice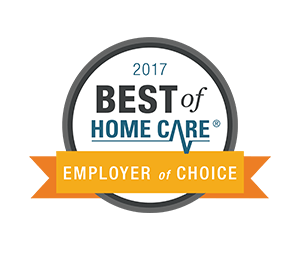 Comfort Keepers - Manassas Receives 2017 Best of Home Care®–Employer of Choice Award
Manassas – Comfort Keepers Manassas announced today that it has received the 2017 Best of Home Care – Employer of Choice Award from Home Care Pulse. The Employer of Choice Award is granted only to the top-ranking home care providers, based on caregiver satisfaction scores gathered by Home Care Pulse, an independent satisfaction research firm for home care. Comfort Keepers Manassas is now ranked among the best employers of in-home caregivers in the region.
"We congratulate Comfort Keepers Manassas on earning the Best of Home Care – Employer of Choice Award," says Aaron Marcum, CEO and founder of Home Care Pulse. "Since this award is based on employee feedback, it shows the dedication Comfort Keepers Manassas has to providing their employees with a great working experience, while ensuring clients have well-trained, compassionate caregivers."
Best of Home Care – Employer of Choice award-winning providers work with Home Care Pulse to gather feedback from their caregivers via live phone interviews each month. Because Home Care Pulse is an independent company, it is able to collect honest and unbiased feedback. Comfort Keepers Manassas has received this award for their outstanding performance in the following caregiver satisfaction categories: Recommended Employment, Training Received, Clear Expectations, Openness to New Ideas, Caregiver Recognition, Office Support Staff, Client/Caregiver Compatibility.
"Our Caregivers are our most precious asset and it's an honor to receive this recognition. Our office staff is committed to ensuring our Caregivers know they are key members of our team and we value how they deliver compassionate and professional care to the seniors and Veterans of our community." Anthony J. Fiore, Owner
"Our goal at Home Care Pulse is to empower home care businesses to provide the best home care possible," says Aaron Marcum, CEO and founder of Home Care Pulse. "We are happy to recognize Comfort Keepers Manassas as a Best of Home Care – Employer of Choice, and we celebrate their accomplishments in building a team of happy, qualified caregivers to care for their clients."
To find out more about Comfort Keepers Manassas's commitment to excellence, please visit:
Comfort Keepers of Manassas Online or call 703-686-4820. For more information on an in home caregiving career with Comfort Keepers visit their careers page.
About Comfort Keepers Manassas
Comfort Keepers Manassas is a Veteran owned and Veteran led in home care company dedicated to providing the highest levels of safe, affordable and compassionate care to your loved ones and those in need.
We help families regain their independence and quality of life. We help reduce stress and restore life balance so loved ones can enjoy what matters most.
About Home Care Pulse
Home Care Pulse is the industry's leading firm in satisfaction research and quality assurance. On behalf of home care businesses across North America, Home Care Pulse gathers unbiased satisfaction ratings from clients and caregivers and detailed feedback to ensure the best in-home care possible can be provided. Powerful online reports allow businesses to identify needs and take action to reduce increase satisfaction, reduce caregiver turnover, and address client needs.
To learn more about how Comfort Keepers of Manassas can help you or your elderly loved ones call our 24-Hour Hotline anytime at (703) 686-4820 or use our online Contact Form to request more information.
Comfort Keepers of Manassas provides 24-hour in home care, Veteran's care, and other senior care services including Personal Emergency Response Systems (PERS) 24-Hour Monitoring for the following cities in Virginia:
Bristow, Catharpin, Centreville, Gainesville, Manassas, Manassas Park, and Nokesville, Virginia.