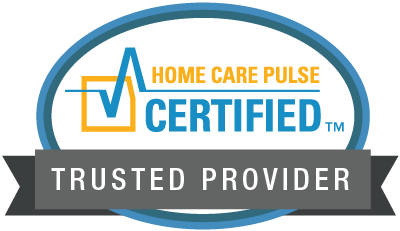 Comfort Keepers - Manassas Receives Home Care Pulse Certified – Trusted Provider Distinction
Manassas – Mar 6, 2017 – Comfort Keepers Manassas today announced that it has received the Certified – Trusted Provider distinction from Home Care Pulse. This distinction illustrates Comfort Keepers commitment to client satisfaction.
"We want to commend Comfort Keepers for receiving the Certified – Trusted Provider distinction," says Aaron Marcum. "Home Care Pulse awards this distinction to providers who are actively gathering feedback from their clients each month and using that feedback to improve the quality of care they provide. By choosing a Certified – Trusted Provider to care for their loved ones, families can be reassured that their provider is dedicated to quality in home care."
Certified – Trusted Providers have contracted with Home Care Pulse to gather and report feedback from their clients by conducting live random phone interviews with a percentage of their clients each month. Because Home Care Pulse is an independent third-party company, they are able to collect honest and unbiased feedback, without outside influence. Clients rate their provider's services in areas such as timeliness of caregivers, services being provided as promised, compassion of caregivers and overall quality of care. Clients are also given the opportunity to provide feedback for their provider.
"We deeply appreciate this recognition as it aligns and supports our mission and core values to provide the highest level of quality care to our clients and their families." Anthony Fiore, Owner
"Our goal at Home Care Pulse is to empower home care businesses to reach their goals and deliver the best home care possible," says Aaron Marcum, CEO and founder of Home Care Pulse. "We are happy to recognize Comfort Keepers as a Certified – Trusted Provider, and we applaud their commitment to client satisfaction."
To find out more about the Home Care Pulse Certification, please visit BestofHomeCare.com.
About Home Care Pulse
Home Care Pulse is the industry's leading firm in performance benchmarking and quality satisfaction management and serves hundreds of home care businesses across North America. They are the industry's top resource for education, business development, certification, and proof of quality, including the prestigious Best of Home Care® awards. Visit www.homecarepulse.com to learn more about our VANTAGE program, or visit benchmarking.homecarepulse.com to learn about the Private Duty Benchmarking Study, the home care industry's largest and most comprehensive annual study, featuring benchmarks on finance, sales, marketing, operations, and more.
About Comfort Keepers Manassas
Comfort Keepers Manassas is a licensed In Home Care provider serving Prince William County. The company was founded in 2014 by a military Veteran with a mission to provide safe and compassionate care to seniors and those in need wherever they call home. Further information can be found at www.Manassas-978.ComfortKeepers.com.