Choosing Private Home Care Services in San Antonio, TX
How Do I Know Which Private Home Care Services to Choose?
Private home care services can come in all shapes and sizes, ranging from medical care to help with routine household chores. Comfort Keepers provide seniors with a wide range of home care services that are designed to keep them confident and happy. Each care service is tailored to the specific needs of each individual because we know that every senior is different and special in their own way. Though the process is difficult, we can help you choose the right combination and level of service to best suit your loved one's needs!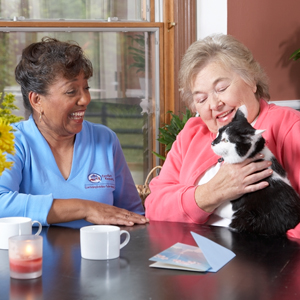 At Comfort Keepers® in Boerne, TX, there is a wide range of services that you can choose from: 
In-Home Companionship and Private Home Care Services 
Personal Care Services
Specialized Care Services 
In-Home Companionship and Private Home Care Services 
This particular service is for those who need help with basic household chores and are in need of companionship and social interaction. The in-home caregivers perform tasks such as meal preparation, laundry, grocery shopping, errands, grooming guidance, and various other necessary household chores. 
Personal Care Services
Personal care services are a good fit for your loved one if they are unable to help themselves when it comes to their own personal care and upkeep. Duties that the caregiver may assist with are bathing, mobility assistance, toileting, and incontinence care. Personal care services are conducted sensitively and will still provide seniors with a sense of self-esteem and confidence. 
Specialized Care Services
With this care service, caregivers provide 24-hour emergency response for those with Alzheimer's and other dementia issues. There is also another special care service provided for verified veterans. Here at Comfort Keepers in Boerne, TX, we are proud and honored to serve our nation's heroes. 
Read more about our Veterans Benefits!
Choosing the private home care service package that best fits your needs can be difficult and quite stressful. It can take a toll on you, your loved one, and the rest of your family. To choose the appropriate approach to home care services, discuss the different options with your loved one so that you can decide together on the best option.
Read more about the different private home care services provided by Comfort Keepers, or contact us directly at (210) 201-0174 to discuss your options.