Comfort Keepers Home Healthcare Agency in San Antonio, TX Presents the Family Room
Home Healthcare Agency in San Antonio, TX: Comfort Keepers is proud to present a new online portal called the Family Room
Comfort Keepers is committed to giving the best available senior care. Not only is our care compassionate and thorough, but also transparent, with clear communication. Now, we have something that sets us even farther apart from other home healthcare agencies. It's a wonderful new technology called the Family Room.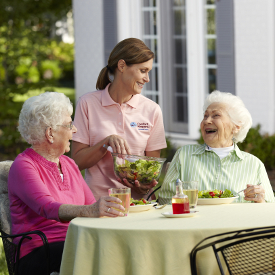 What Is The Family Room?
Family Room is a communication supercenter that brings together all members of a home healthcare agency team: family members, the care recipient, and the caregiver. It's a simple yet complete web portal that sends out and compiles reminders, messages, and more.
It allows us to give you something that other home healthcare agencies cannot: regular, real-time updates on the details of your loved-one's care. For instance, the caregiver can fill out a checklist as he or she meets Mom or Dad's various in-home care needs. Group members can view your loved one's appointments and other activities and can add and change them as necessary.
Our caregiver uses the portal to ask you questions and to keep you up to speed. In addition, you can ask questions—and get clear, written answers.
Family Room also allows you to look at your home healthcare facility's invoices and pay bills. This allows you to steer clear of awkward conversations while staying current with bills.
Family Room was brought to life by the company's founder, whose parents got care from one of their local home healthcare agencies, and who saw a need unfilled. Everything about Family Room was designed for that reason.
The care Comfort Keepers provides is customizable and personalized. Our caregivers meet with your family to develop a plan that is best for your family. Now, the Family Room allows us to take the personalized home health care service to a new level of transparency.
Family Room is a complementary feature of the care Comfort Keepers provides. It helps us fulfill our mission of delivering the best care. We believe that care should provide peace of mind for everyone. The best way to do this is for the care to be transparent and free of confusion, and as interactive as possible. Give us a call at (210) 201-0174!