Comfort Keepers® Private Duty Home Care Agencies are Available 24 hours a Day to assist Independent Seniors
When seniors live independently in their homes, the need for care could arise at any time; that's why our home care agency is available 24 hours a day to assist seniors within the area of Castle Hills, TX.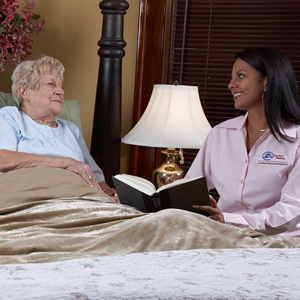 Comfort Keepers® private duty home care 24-hour availability means that seniors can receive care, within their own homes, at any time of day or night. From as little as three hours a week to full-time, 24/7 service, seniors and their families can be confident that caregiving professionals from our home care agencies are available to provide a number of services.
The New York Times reports that for those seniors requiring 24-hour care, fewer and fewer are choosing to receive that care in nursing homes. This is due to the idea that home care agencies offer a more financially viable solution and better medical outcomes for many seniors.
24-hour services available to the Comfort Keepers private duty home care providers serving areas of Castle Hills, TX are especially useful to those seniors who require a greater level of attention and assistance. Services for these seniors include personal care, post-hospital support, hospice care, and Alzheimer's and dementia care.
Personal Care Services
Personal care services refer to bathing, toileting, feeding, personal grooming, mobility, and transfer services, and are essential to helping seniors maintain proper hygiene and comfort.
Post-hospital support is especially critical in the event of surgery, injury, or other situation requiring hospitalization. This is an important time for seniors' health and healing. Often, seniors need a helping hand to remember which medications to take, to obtain medication from pharmacies, to transportation and mobility needs. Or, a senior may simply need companionship and company during a time of healing.
In other situations such as care for seniors with Alzheimer's or dementia, it is important that a trusted caregiver always be there to ensure safety, to prevent wandering, and to assist in any other situation that may arise. Home care agencies assist with these tasks and many more, day or night.
For more information regarding Comfort Keepers' private duty, home care and 24-hour services visit our services section. If you would like to inquire about a free in-home assessment, call (210) 201-0174 or contact Comfort Keepers online.