Coronavirus and the Elderly: How In-Home Care Can Help
 Amidst the Coronavirus crisis, when staying at home and socially distanced is essential, it's important to keep seniors safe, reassured, active and cared for. We provide uplifting in-home care from the safety and comfort of home. Our caregivers can assist by shopping for groceries and necessities, cleaning, and providing transportation to medical appointments.
 Comfort Keepers is all about Elevating the Human Spirit for clients, caregivers, and families. That has never been more important than now. During this time of social distancing, seniors may be socially isolated, in addition to being physically isolated. Comfort Keepers works to help seniors fight depression and loneliness, especially while remaining at home. 
---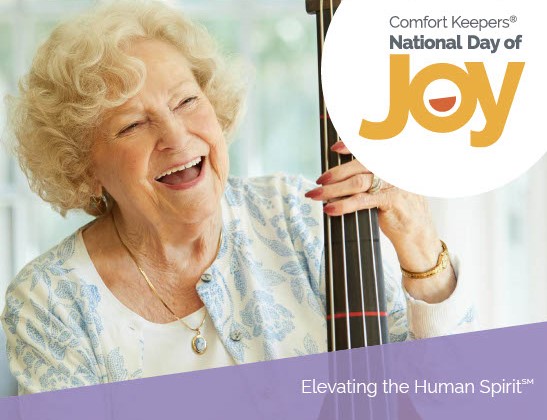 We will be celebrating National Day of Joy by bringing an ice cream truck to the Brookdale location in Hollywood Park to spread joy throughout the facility!
The National Day of Joy is June 24th.
---
Home Care from Comfort Keepers of San Antonio, Cibolo, Boerne, Schertz, TX and surrounding areas
Comfort Keepers Home Care is an alternative to assisted living and senior care facilities in San Antonio, Texas.
For more than 16 years, Comfort Keepers has been providing in-home care for seniors and other adults in and around San Antonio, Texas. For us, it's about providing elder care services to seniors and their families that will give them the most comprehensive, quality dementia care or senior care while continuing to promote their independence and maintaining their quality of life.
What sets Comfort Keepers apart from other agencies in San Antonio, TX?
The San Antonio Comfort Keepers home care team is composed of experienced professionals with decades of experience from the healthcare and human resource industries.  Tina Lewis, the General Manager, has years of experience in healthcare management.  Client Care Coordinator, John Ramirez, and HR Coordinator, Michelle Arsate bring years of experience to the team. All of our caregivers are carefully screened, insured, and bonded so that clients and their families can rest assured of the quality of their senior care expert.
Comfort Keepers offers dementia care, senior care, and respite care services to seniors and loved ones throughout San Antonio, Cibolo, Boerne, and the Schertz, TX area. Our expert caregivers have been trained in the most difficult types of care. Trust our caregiver team to elevate the human spirit and provide peace of mind to you and your family with in-home care
Learn more about your local comfort Keepers Senior Care throughout the San Antonio area. Give us a call today at (210) 201-0174 our caregivers are available 24/7 to answer questions and provide care to you and your loved ones.