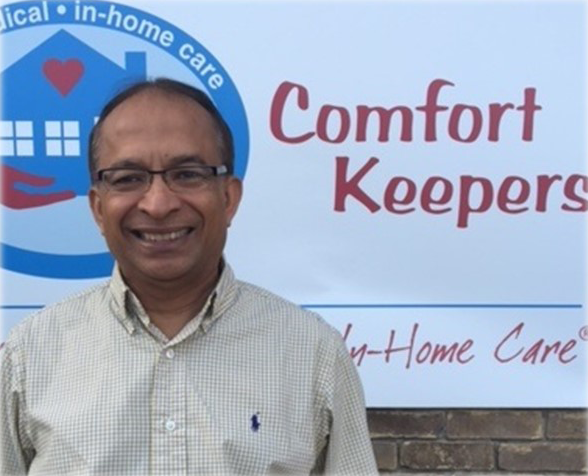 Meet Ashvin Amin, a long-time resident of the Dallas area, former IT specialist and a family man. After spending a good portion of his life in the information technology field Ashvin wanted to move into a more satisfying career field. He retired from IBM after achieving substantial success in customer facing activities and after witnessing first hand several of his senior family members needing occasional physical assistance but not wanting to leave their homes for assisted living facilities or nursing homes, Ashvin saw an opportunity to make a difference. He noted how many of his family members did not want to leave behind the memories of their own owns and the emotinal attachments they had to their homes were hard to break.
What Ashvin saw was seniors who wanted to stay in their homes and live independently but just needed a little extra help. They wanted the social interaction and stimulation of being around people but a nursing home or an assisted living facility just "...didn't feel right." Seeing how both family members and professional caregivers could contribute to this quality-of-life boost for his own family members, Ashvin becaem enamored with the idea of startng a business that could help facilitate assistance for senior outside of his family as well. After looking into very business models that could facilitate his vision, Ashvin found and decided on opening a Comfort Keepers® franchise in Euless. He loved their approach to in-home care and he could stay in the part of Texas he had grown to love. Ashvin recalls that everything he was looking for to assist his own relatives he found with the Comfort Keepers family. Especially attractive was their Interactive Caregiving™ approach - keeping their clients engaged mentally and physically. Ashvin knows first-hand how successful this approach can be, to this day, many of his family members are still living independently in their own homes and enjoy life much more than they realized they could just a few short years ago.
While Ashvin brings a razor sharp business acumen to running his Comfort Keepers office, what sets him apart is his compassion and empathy for all people - young or elderly. Ashvin calls on his extensive organizational skills to ensure that all staff are screened, trained to standards, and possess the right heart to do their jobs effectively and with compassion.
Ashvin believes that "With our compassionate and comforting caregivers, we can provide assistance to these seniors during their golden years and enhance their independent living at levels they would have not believed possible."
Ashvin likes to think of caregiving not so much as a relationship between a client and a caregiver, but a journey together.