Companion Care Available in Nashville, TN and Surrounding Areas
How Comfort Keepers companion care services support physical, emotional, mental, and social health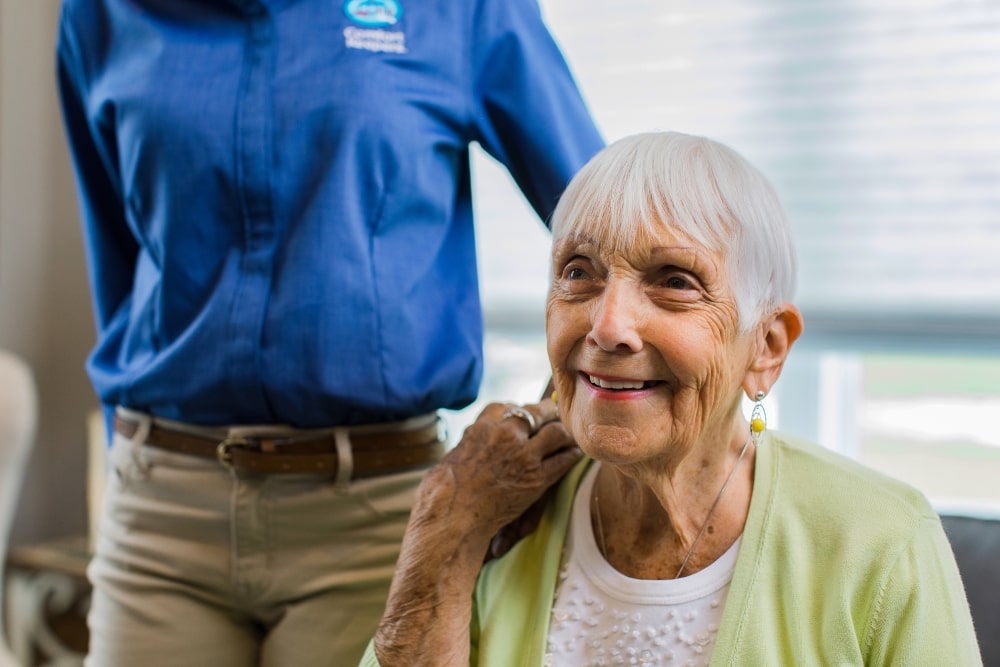 At Comfort Keepers, we know the heart of companion care begins with companionship and legitimate care. Because socialization is a huge factor in senior mental and emotional health, our caregivers ensure your loved one has the proper companionship they need to live a happy and healthy life. Engaging in social interaction with friends, family, and neighbors, we encourage emotional connection, so their risk of health problems reduces. When you have a Comfort Keepers caregiver, your senior connects with another human being in addition to having companion care. No matter how they spend time together, your senior has a caregiver to support their emotional needs.
What is companion care?
In addition to emotional support and care, companion care gives your senior friendship and a social outlet. Companion activities include: 
Conversation and mental stimulation, such as playing games or listening to music
Meal prep and time spent together over breakfast, lunch or dinner
Transportation to and from appointments and social events
Reminders for personal care and grooming
Light activity, such as a walk or time spent outside
Laundry and light housekeeping
Grocery shopping and errands
Medication reminders
Comfort Keepers encourages participating in intriguing and fun activities. This allows more joy and stimulation for your senior loved one. For seniors or family members needing an emotional check-in or conversation, our caregivers are always here to answer questions or share progress. 
A holistic approach
Our Interactive Caregiving™ philosophy includes caring for your senior as a whole person. This type of care allows upliftment for the body and soul. We involve and stimulate your senior throughout the day. By engaging your loved one, we incorporate Interactive Caregiving™ with our client and their family. 
How Comfort Keepers Can Help
Our care includes a plethora of other services to help your senior live a great life: 
Nutrition and Meal Prep
A healthy diet can improve your senior health and extend their life. Our caregivers can prepare meals, go grocery shopping, and even provide company during lunch and dinner. If your senior needs a special diet, we can accommodate their nutritional needs. 
Conversation and Companionship
Seniors need engagement and social interaction. Without the proper amount of companion care, your senior is at risk of diseases like dementia, cognitive decline, and depression. Our caregivers provide the necessary engagement your senior needs to stay emotionally and mentally well. 
Laundry and Light Housekeeping
Our caregivers can take care of all laundry needs, either in the home or at a nearby laundromat. These services can include washing, drying, ironing, and putting clean laundry away. Light housekeeping services include vacuuming, dusting, sweeping, mopping, cleaning bathrooms (sinks, tubs, showers, and toilets), cleaning kitchens (sinks, appliances, counters, and taking out the trash), straightening all rooms, organizing closets and drawers, and cleaning any interior windows reachable without a ladder.
Grocery Shopping and Errands
When your senior is running low on groceries, our caregivers accompany your senior to the grocery store to assist with shopping. If your senior is unable to go to the store themselves, we can get your senior's shopping done without them. 
Transportation
We provide transportation services to help those that need assistance home after a hospital stay or need a ride to and from important appointments.
Medication Reminders
It can be difficult for seniors to remember the different doses and time for their medication. With Comfort Keepers caregivers, your senior has extra support with the difficult task of medication management. 
Our companion care plans are customized for your senior's needs. With encouraging support and physical wellness, your senior loved one has safety and peace of mind. To learn more about our customized care plans and how we can help your loved one enjoy every day, call Comfort Keepers of Nashville today at (615) 219-5126.