Welcome to Comfort Keepers of Monroeville, PA
Providing at home care for residents of Allegheny and Westmoreland Counties since 2008!
Comfort Keepers of Monroeville, PA is a leading provider of at home care services. Our expert caregivers provide customized senior care plans that may include personal care and companionship-homemaker services. We help seniors and other adults live an independent, quality life.
Our office in Monroeville provides outstanding In-Home Care and Companionship to seniors who wish to remain in the comfort of their own homes as they age. We strive to provide our clients with the highest quality of at home care by engaging them through our unique brand of Interactive CaregivingTM in all aspects of their daily lives. This 'doing with, not for' approach allows your loved ones to stay as active and involved in their daily activities as possible. Each and every person we serve is unique, resulting in individualized care.
Our care providers stand apart in elder care. They are passionate about what they do, and they take that compassion into your homes. They work to enhance the quality of life of your loved one by engaging them through their strong work ethic, integrity and their drive to make a difference in the lives of those they serve. Services can include everything from basic companion care to assistance with Alzheimer's care, dementia care, end of life care, recovery and transitional care and much, much more.
To find out how our office serving Monroeville, PA may fill your needs or those of a loved one, call Suzy Whelan today at (412) 204-7938 to schedule a free in-home assessment! With the assistance of family members, Mame will develop a Plan of Care designed to match your specific needs or those of your loved ones.
Learn more about our at home care teams here.
---
NOT SURE WHAT CARE YOU MAY NEED?
If you have worried about your senior loved one living on their own, it might be time to consider in home senior care. Begin the process by taking a short survey to help you better understand when the time has come to pursue care options.
---
Monroeville Award Program
Comfort Keepers is proud to announce we have been selected for the 2017 Best of Monroeville Awards for Home Health Care Service.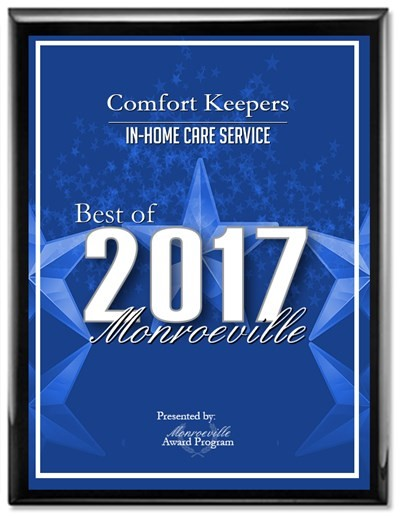 Comfort Keepers has been selected for the 2017 Best of Monroeville Award in the In-Home Care Service category by the Monroeville Award Program.
Each year, the Monroeville Award Program identifies companies that we believe have achieved exceptional marketing success in their local community and business category. These are local companies that enhance the positive image of small business through service to their customers and our community. These exceptional companies help make the Monroeville area a great place to live, work and play.
Various sources of information were gathered and analyzed to choose the winners in each category. The 2017 Monroeville Award Program focuses on quality, not quantity. Winners are determined based on the information gathered both internally by the Monroeville Award Program and data provided by third parties. Recognition is given to those companies that have shown the ability to use their best practices and implemented programs to generate competitive advantages and long-term value.

The Monroeville Award Program was established to recognize the best of local businesses in our community. Our organization works exclusively with local business owners, trade groups, professional associations and other business advertising and marketing groups. Our mission is to recognize the small business community's contributions to the U.S. economy.
SOURCE:
Monroeville Award Program
Email: PublicRelations@local-best.com
URL: https://www.local-best.com