Comfort Keepers Respite Care in Tulsa, OK
You provide an irreplaceable service to your loved one – but you don't have to do it all by yourself. Respite care is available to you in Tulsa, OK.
Caring for a senior is an undertaking one should not take lightly. While being there for your loved one can be rewarding, the responsibility also can be exhausting. In order to do the best job you can when taking care of someone else, you must take care of yourself, too. This is why Comfort Keepers offers trusted respite care services to families in Tulsa, OK
Comfort Keepers® of Tulsa, Oklahoma offers special respite services tailored to the needs of the family caregiver. Whether you need an extra helping hand occasionally or on a regular basis, Comfort Keepers® can pick up where you leave off without missing a beat – so you can get rest, feel refreshed, and find added peace of mind knowing that your loved one is in good hands. When you return, you can focus more on enjoying the time you get to spend with your loved one.
---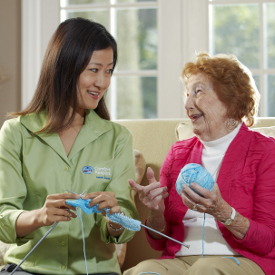 What is Respite Care?
Known in some countries as "short break" care, respite services provide planned short-term breaks for families and other unpaid caregivers who need time outside the home or simply take a rest. Respite care helps support and maintain the primary caregiving relationship.
---
Having access to a caregiver you can truly trust takes the pressure off your family to be solely responsible for your loved one's well-being. Occasions, where a Comfort Keeper can provide respite care, include when you
take vacations or attend weekend events,
run errands or need to keep appointments,
attend caregiver support group sessions and other social activities, or
are simply in need of a day's rest.
The True Value of Respite Care & Interim Home Care for Seniors
Caring for your loved one is often a rewarding experience and it is a way for you to give back to them, as they cared for you throughout your entire life. While caregiving does have its ups, it can also have its downs too and you need to know how to overcome them. Caregiving can be demanding, and it can take a lot out of you. If you do not have any method of relief from your caregiving duties and you already work a full-time job, you may start to feel completely overwhelmed. Stress is one of the things that most caregivers complain about because it exists and in great number too.
As a caregiver, it seems natural that you would want to have a break or experience some relief from your duties, but as a family member, you may feel guilty asking for that opportunity. You do not have to though. The team at Comfort Keepers Home Care for Seniors offers respite services that allow you to run the errands you need to, meet new people, and relax. Your loved one can still receive the care they need while you take a breather for yourself.
Setting Up Respite Care
Before you just decide respite care is the right answer, you need to think about a few things. First and foremost, why are you in need of respite care? How many hours are required? What services does your loved one need the most? Your loved one will likely want to know the answers to these questions as well, especially since they are used to you being there by their side.
Cost is always a factor when it comes to respite care and you should know your budget or have a budget in mind. This way, you can tailor the care needed to this. There are respite care plans for all budgets, especially when you choose Comfort Keepers Home Care for Seniors.
In addition to respite care, your loved one can receive care from community members in the area, loved ones, friends, and more. Of course, you want to keep your loved one's health in mind and ensure they receive the absolute best care possible.
Home Care for Seniors Can Help
Whether you have an event to catch or just could use a short break, our Comfort Keepers are trained to offer in-home care services in Tulsa adapted to the particular needs of your loved one.
You don't have to carry the burden of caregiving for a loved one all by yourself. If you're wondering whether the respite care services offered by Comfort Keepers of Tulsa could help you and your family recharge, schedule a consultation online or call (918) 205-1756 to learn more.