Meet Our Comfort Keepers®
Our team is uniquely qualified and ready to help with your in-home care needs
Every member of our team is professional and well trained. We conduct a thorough screening and interviewing process to identify the best home care providers, and only those who pass this process go on to complete training to deliver our special brand of home care and become Comfort Keepers®. What truly sets our people apart, though, is their natural gift for caring for others. 
All Comfort Keepers pass extensive background checks and complete continuing education. They are bonded, insured and covered by workers' compensation insurance to protect our clients and their families.
Pete Kolp
Operations Manager
Pete is the Operations Manager of Comfort Keepers of Southern Pines. A native of northeast Ohio, who now lives in Pinehurst. He holds a Bachelor's Degree from John Carroll University and an MBA from The University of Notre Dame. His professional experience; 12 years as a Corporate Banker, 21 years running a large Midwest Moving & Storage Company. For 9 years Kolp owned a Consulting Company specializing in Management, Finance, Human Resources, and Supply Chain. Kolp comes from a family with a long history of providing medical care.
Paula Kolp
Scheduler
Paula joined Comfort Keepers after a distinguished career in Real Estate and Transportation & Logistics. Her involvement in Real Estate was as a Sales Associate in Carmel, NY. Paula spent a number of years with William B. Meyer out of Connecticut and New York. Her duties included Operations and Financial responsibility. For 9 years she worked with her husband managing a Consulting Company. Paula has the responsibility of Scheduling all of our excellent Caregivers.
Christy Templin
Office Manager
Christy is new to Moore County and is very excited to begin her career with Comfort Keepers. She recently relocated from Sampson County. where she was the assistant director of a large care center for 18 years
Her previous position required that she master matching resources with the needs of each client. She knows those skills and her experience will be an asset to Comfort Keepers as she takes on her new position.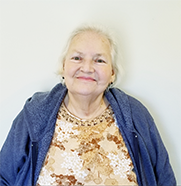 Nancy Kingfisher
RN (Registered Nurse)
Nancy was born in Long Branch NJ and received her education in Plainfield NJ. She attended nursing school while she was in Bayonne NJ.
Nancy is especially proud of her three children, all girls, who are Registered Nurses and work at First Health. She is also the proud grandmother of eight, with four boys and four girls.
After being away for a while, Nancy moved to Oklahoma for twenty five years before returning to NC.
Nancy's experience includes being the Director of Home Health, hospice and a non-skilled Medicaid program.
Nancy also currently serves as the Medical Committee Coordinator for Moore County NAACP.
Interested in joining the Comfort Keepers Southern Pines care team?
We offer competitive compensation, a highly flexible work schedule, and opportunities to impact someone's life in a meaningful and fulfilling way. Whether you're looking for a part-time job senior care job or the start of a new career, we'd love to hear from you.
Browse Jobs