Receive Comfort Keepers Respite Care in Salisbury, NC
Family members can get respite care services to give you a break in Salisbury, Concord, Kannapolis, Lexington, and the surrounding areas of North Carolina
It's likely that a family caregiver is less successful when they are emotionally exhausted. Respite care can be provided by Comfort Keepers home health aides in the Salisbury, NC and Rowan County area to those who are caring for family members who may otherwise need to be placed outside the home. Call us anytime at (704) 322-3240.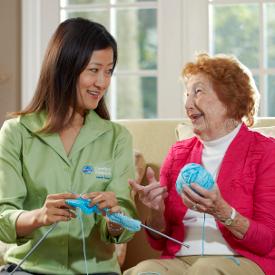 Respite Care Explained
In some places, it's referred to as "short break" care on the notion that it allows scheduled short-term breaks for families and other informal caregivers who need time for a break or rest. Home care providers offer care to help support and maintain the primary caregiving relationship.
How Our Home Care Providers Can Help
Using our respite care services allows you to leave the house for a few hours or even for a few days, knowing that the person you are caring for at home is in good hands. We serve seniors anywhere in the Salisbury, Concord, Kannapolis and Lexington, NC areas. This frees up time to do the following:
Running errands
Catch up on your shopping
Attend a support group meeting
Visit a doctor or dentist for routine care
Give yourself a much-needed rest
Comfort Keepers respite care can be scheduled for as little as a few hours a week. Additionally, around-the-clock care from our home care providers can be arranged so you can take a longer break to attend a wedding out of town, take a child to college, or go on a much-needed vacation.
We serve throughout the Rowan County, NC area. Call us today at (704) 322-3240.