LIttle Falls, MN
Annandale, MN
Rice, MN
Gilman, MN
Royalton, MN
St. Stephen, MN
St. Augusta, MN
St. Cloud, MN
St. Wendel, MN
Sauk Rapids, MN
Waite Park, MN
Clearwater, MN
Watab, MN
Collegeville, MN
Maple Lake, MN
Avon, MN
Foley, MN
Cold Springs, MN
Morrison County, MN
Oak Park, MN
Stearns County, MN
Sartell, MN
Clear Lake, MN
Sherburne County, MN
Holdingford, MN
Benton County, MN
St. Joseph, MN
Bowlus, MN
Wright County, MN
Senior Care in Watab, MN
The Ultimate in Senior Care in Watab, MN by Comfort Keepers of Waite Park, MN
No one ever wants to admit they might not be able to cope with taking care of their loved ones as they age. The idea that you are no longer able to care for your loved one does not necessarily mean they will need to be placed in a nursing home or assisted living facility. In fact, thanks to the fully customizable senior care plans available in Watab, MN offered by Comfort Keepers of Waite Park, MN, your loved ones can look forward to spending their golden years in the family home.
Our Senior Care in Watab, MN has a Lot to Offer
The goal of our senior care plans is not to take over the care of your loved ones, leaving you out of the loop. In fact, our plans have been designed to be fully adaptable and adjustable to meet their current needs and those that come in the future. Among the many in-home care services we offer our clients are:
Light housekeeping, including vacuuming, sweeping, mopping, dusting
Laundry, including wash, dry, fold, and put away
Running errands, including shopping
Meal preparation
Personal hygiene
And many others
Our caregivers are trained to provide only those services that have been requested and only at the level necessary to ensure the tasks are completed to your satisfaction. Should you or your loved one wish to help, our caregivers will always be happy for the extra hands.
Customized Care Plans in Watab, MN
At Comfort Keepers, we realize that our clients all have different needs. Some only need a little help around the house, while others require more constant assistance and care. Our senior care plans have been designed to let you choose how many hours per day, week, or month our caregivers are in your home. We even have 24-hour care teams who coordinated their caregiving into manageable shifts to ensure complete and comprehensive coverage for your loved one.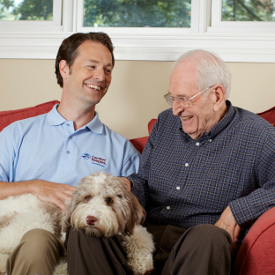 Learn More Today
If you would like to learn more about senior care in Watab, MN, the best way to do so, is to contact us online or give us a call at (320) 230-9939. Our senior advisors are available 24/7 to take your calls, answer your questions, and schedule your free in-home care consultation where we can discuss the health of your loved one and go over their needs.