Annandale, MN
Avon, MN
Benton County, MN
Bowlus, MN
Clear Lake, MN
Clearwater, MN
Cold Springs, MN
Collegeville, MN
Foley, MN
Gilman, MN
Holdingford, MN
LIttle Falls, MN
Maple Lake, MN
Morrison County, MN
Oak Park, MN
Rice, MN
Royalton, MN
Sartell, MN
Sauk Rapids, MN
Sherburne County, MN
St. Augusta, MN
St. Cloud, MN
Stearns County, MN
St. Joseph, MN
St. Stephen, MN
St. Wendel, MN
Waite Park, MN
Watab, MN
Wright County, MN
In Home Care in St. Stephen MN
Transitional In Home Care in St. Stephen, MN by Comfort Keepers of Waite Park, MN
The first few days at home following surgery or a long stay in the hospital are considered to be among the most important for a successful recovery. According to a recent research study, seniors who do not receive the appropriate level of support and in home care in St. Stephen, MN are far more likely to end up recovering more slowly or relapsing, sending them back to the hospital. It is not uncommon for families to take on the care of their loved ones post-surgery, unfortunately, many do not realize just how hard this can be physically and emotionally.
Understanding Transitional Care in St. Stephen, MN  
At Comfort Keepers of Waite Park, MN, our transitional in home care plans are intended to help make your loved one's shift from the hospital to home as smooth and easy as possible. Our senior caregivers offer a range of services aimed at helping both you and your loved one with the entire recovery process. Among the many services our caregivers offer are:
Help and support of the doctor ordered recovery plan
Help with housekeeping chores, including cleaning, laundry, and shopping
Nutritious meal preparation, including shopping for groceries
Transportation to any follow-up appointments
Keeping in touch with the client's doctor
Our In Home Care Has a Lot to Offer in St. Stephen, MN
Along with the long list of housekeeping tasks our caregivers can help with, there are a number of personal care and eldercare services they can also help with. Our goal is to make your loved one as comfortable as possible, ensuring a swift recovery. Among these services are:
Personal hygiene, including bathing, grooming, toileting
Mobility and positioning to ensure maximum comfort and low stress on muscles and joints
Wound care
Exercise if recommended by the doctor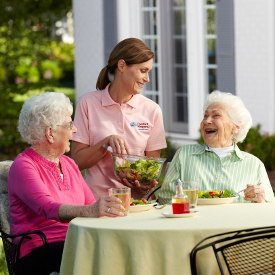 Contact Us For Customized Care
If you are ready for your free in-home care consultation or would like to learn more about our end of life in-home senior care services we offer in the St. Stephen, MN area, all you have to do is contact us at (320) 230-9939. Our Senior Care Advisors are available 24/7 to answer your questions.