Annandale, MN
Avon, MN
Benton County, MN
Bowlus, MN
Clear Lake, MN
Clearwater, MN
Cold Springs, MN
Collegeville, MN
Foley, MN
Gilman, MN
Holdingford, MN
LIttle Falls, MN
Maple Lake, MN
Morrison County, MN
Oak Park, MN
Rice, MN
Royalton, MN
Sartell, MN
Sauk Rapids, MN
Sherburne County, MN
St. Augusta, MN
St. Cloud, MN
Stearns County, MN
St. Joseph, MN
St. Stephen, MN
St. Wendel, MN
Waite Park, MN
Watab, MN
Wright County, MN
Senior Care For The Elderly in Royalton, MN
Comfort Keepers Providing the Finest Senior care in Royalton, MN
The town of Royalton, MN located on the Platte River is home to an amazing school district, a large and thriving business community, and a number of seniors who have dedicated their lives to making the city a success. Royalton is a very busy community with plenty to do, leaving many families without the time to take care of their elderly loved ones. Here at Comfort Keepers we offer a range of senior care plans designed to help you provide the perfect level of care for your loved ones so that they can remain in the same home they raised their families in, rather than end up in an assisted living facility.
Industry Leading Senior Care Services
For many of the senior residents of Royalton, it is the simple day to day tasks that tend to be the hardest to deal with. These include tasks such as personal hygiene, getting to various appointments, and doing the shopping. Our Comfort Keepers caregivers are among the friendliest and most highly skilled in the region, each has been handpicked for their ability to provide a full range of senior care services to assist with both physical and mental conditions. Their only goal is to help their clients look and feel their best at all times, without compromising their sense of independence and dignity.
Mobility Assistance
One of the biggest problems faced by many seniors in the Royalton, MN area is personal mobility. They may have a hard time getting out of bed, or getting on and off the toilet or their wheelchair, or simply getting out to the store to go grocery shopping. Our caregivers have all received specialized training that teaches them how to move those in their care without causing pain or harm. This training also includes education on how to properly position their clients to avoid bedsores and loss of muscle tone, while at the same time aiding with proper breathing and digestion.  We want your loved ones to be as comfortable as possible in their homes.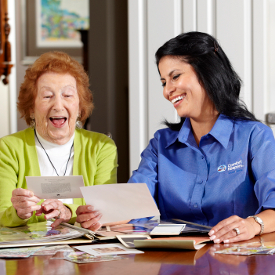 Contact Us Now For Custom Care
To learn more about the many senior care services offered by Comfort Keepers of Royalton, MN, contact us or call anytime at (320) 230-9939. Our phones are staffed by skilled Senior Care Advisors who can answer your questions and then schedule your free in-home care consultation to go over your options and decide which plan is best for your loved ones.