LIttle Falls, MN
Annandale, MN
Rice, MN
Gilman, MN
Royalton, MN
St. Stephen, MN
St. Augusta, MN
St. Cloud, MN
St. Wendel, MN
Sauk Rapids, MN
Waite Park, MN
Clearwater, MN
Watab, MN
Collegeville, MN
Maple Lake, MN
Avon, MN
Foley, MN
Cold Springs, MN
Morrison County, MN
Oak Park, MN
Stearns County, MN
Sartell, MN
Clear Lake, MN
Sherburne County, MN
Holdingford, MN
Benton County, MN
St. Joseph, MN
Bowlus, MN
Wright County, MN
Industry Leading Senior Care in Rice, MN
A Helping Hand in Rice, MN
Being able to preserve their independence sits on top of the list of priorities for the majority of seniors in Rice, MN. This means being able to live out the rest of their lives in the same home where they raised their families and getting the most out of life. Over the course of time, most elderly people begin to slow down and in time need a helping hand with things like chores around the house and meal preparation. At Comfort Keepers, we offer a range of senior care plans designed to help you or your loved ones continue to live in their homes rather than in a nursing home or assisted living facility.
Senior Care Plans That Work
Our caregivers have been chosen for their ability to provide a wide array of senior care services in Rice, MN designed to make living at home for the elderly as easy and pleasant as possible. They can help with transportation for those who can no longer drive or make use of public transportation, help with household chores, remind their clients to take their medications and more. Our caregivers can provide the help you or your loved ones need including companionship, which is the one thing that many seniors lack in their daily lives. They can even provide transportation to social engagements, to the movies, or even out to the local mall for a simple shopping trip.
No One Has To Wait For The Right Care
No one should ever wait until they are too ill to leave their Rice, MN homes before seeking help. A little bit of senior care can go a long way towards helping you or your loved ones remain more active and enjoy more of life. Our senior care plans have been designed to be fully adaptable to meet the needs of you or your loved ones both now and in the future, ensuring you or they can remain in the family home instead of a nursing home or assisted living facility.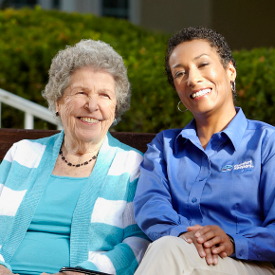 Quality Care Is Just A Click Or A Phone Call Away
If you are ready to learn about the many senior care options available in Rice, MN by Comfort Keepers, call us today at (320) 230-9939, or contact us anytime online. Our team of advisors are available 24/7 to take your call, answer your questions, and schedule your no cost in-home care consultation.