LIttle Falls, MN
Annandale, MN
Rice, MN
Gilman, MN
Royalton, MN
St. Stephen, MN
St. Augusta, MN
St. Cloud, MN
St. Wendel, MN
Sauk Rapids, MN
Waite Park, MN
Clearwater, MN
Watab, MN
Collegeville, MN
Maple Lake, MN
Avon, MN
Foley, MN
Cold Springs, MN
Morrison County, MN
Oak Park, MN
Stearns County, MN
Sartell, MN
Clear Lake, MN
Sherburne County, MN
Holdingford, MN
Benton County, MN
St. Joseph, MN
Bowlus, MN
Wright County, MN
In Home Care in Oak Park, MN
Comfort Keepers Offers Interactive In Home Care in Oak Park, MN
One of the biggest problems for many seniors who prefer to remain at home rather than in an assisted living facility or nursing home is the lack of companionship. They lack the daily activities and meaningful conversation they have had all of their lives. While many families prefer to have their loved ones at home, most simply lack the time to be constant companions with their own careers and families to care for. Our caregivers offer in home care plans is Oak Park, MN that are designed to engage their clients and enrich their lives by building active relationships with them.
What Makes Our Interactive Care in Oak Park, MN Different?
At Comfort Keepers, we have created our own special brand of in home care we like to call Interactive Caregiving. We believe our version of senior care helps our clients to enjoy a healthier, longer, and more purposeful life. Research has shown that the more active an elderly person can be, the healthier and longer their lives will be.
In light of this, our caregivers are prepared to offer their clients a wide range of activities and companionship. Among these activities are:
Going for walks in the local neighborhood
Working with their clients on chores they can handle
Assist with preparing nutritional meals
Talking about current news and events
Reminiscing about personal interests, going over photo albums
Working together on hobbies, crafts, or other personal interests
Going on shopping trips or to church
Going to various support activities and senior centers
Our In Home Care Goals in Oak Park, MN
The goal of our in home care plans in Oak Park, MN is to provide a wide range of highly personalized services and companionship to our clients, making their golden years as pleasant as possible. We offer home elder care, homemaker services, and companionship, all as part of our interactive senior care program with the intention of significantly improving our clients' quality of life.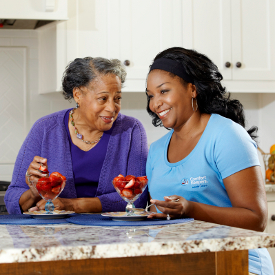 Contact Us Today For Customized Care
If you are ready for your free in-home care consultation or would like to learn more about our end of life senior care services we offer in the Oak Park, MN area, all you have to do is contact us at (320) 230-9939. Our Senior Care Advisors are available 24/7 to answer your questions.