LIttle Falls, MN
Annandale, MN
Rice, MN
Gilman, MN
Royalton, MN
St. Stephen, MN
St. Augusta, MN
St. Cloud, MN
St. Wendel, MN
Sauk Rapids, MN
Waite Park, MN
Clearwater, MN
Watab, MN
Collegeville, MN
Maple Lake, MN
Avon, MN
Foley, MN
Cold Springs, MN
Morrison County, MN
Oak Park, MN
Stearns County, MN
Sartell, MN
Clear Lake, MN
Sherburne County, MN
Holdingford, MN
Benton County, MN
St. Joseph, MN
Bowlus, MN
Wright County, MN
Comfort Keepers Offers in Home Care for Gilman, MN Seniors
Experienced in Home Care Provided for Seniors with Alzheimer's and Dementia in Gilman, MN
One of the most difficult things to for a family to have to cope with when caring for aging loved ones is when they are diagnosed with Alzheimer's disease or dementia. Not only is it emotionally taxing to watch your loved one slip away, but these conditions can be physically and emotionally taxing on families who are trying to keep their family members at home where they will always be more comfortable. Rather than facing the possibility of having to place their loved ones in nursing homes, in home care provided by experienced professionals in Gilman, MN can ensure that they are able to remain in the family home.
What Is In Home Care for Dementia in Gilman, MN?
Those who suffer from any form of dementia tend to display a slow but steady decline in their mental abilities often accompanied by a loss of memory and the ability to accomplish familiar tasks. In general, these conditions will in time affect the person's ability to live their daily lives. Of the many different forms of dementia, Alzheimer's disease is considered to be the most common. The latest statistics show that 50 to 80 percent of patients diagnosed with dementia have Alzheimer's disease. Our in home care providers have the skill, training, and patience to work with clients who have been diagnosed with dementia and their families.
How Our Care in Gilman, MN Can Help
Our in home care for patients with dementia or Alzheimer's disease offers a multi-faceted plan of action. This plan takes into account the person's special needs, their health, and their abilities. We can provide dementia care covering just a few hours each week or when necessary full-time round the clock care. Our program offers caregivers who can coordinate their care in shifts to ensure your loved ones are always in good hands.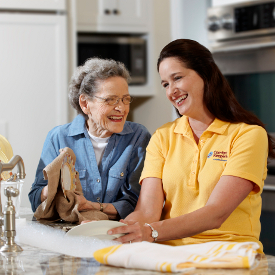 Contact Us For Specialized Care
If you are ready to seek help for your loved one with dementia or Alzheimer's disease, we can help. All you have to do is contact us online or call us at (320) 230-9939 and speak to one of our senior care advisors. They are available 24/7 to answer your questions and schedule your free in-home care consultation.