LIttle Falls, MN
Annandale, MN
Rice, MN
Gilman, MN
Royalton, MN
St. Stephen, MN
St. Augusta, MN
St. Cloud, MN
St. Wendel, MN
Sauk Rapids, MN
Waite Park, MN
Clearwater, MN
Watab, MN
Collegeville, MN
Maple Lake, MN
Avon, MN
Foley, MN
Cold Springs, MN
Morrison County, MN
Oak Park, MN
Stearns County, MN
Sartell, MN
Clear Lake, MN
Sherburne County, MN
Holdingford, MN
Benton County, MN
St. Joseph, MN
Bowlus, MN
Wright County, MN
Quality Senior Care Services in Foley, MN
Industry leading senior care services for seniors in the community of Foley, MN
For more than 10 years, seniors in Foley, MN have relied on the expert senior care services provided by Comfort Keepers of Waite Park & St. Cloud, MN. Founded on traditional values, many of the parks, attractions and recreational trails are all rooted in the history of Foley. Our caregivers provide incidental transportation through our senior care plans to help our clients take advantage of everything Foley has to offer.
Community Involvement in Foley, MN
Foley is home to three city parks equipped with tennis courts, playgrounds, and party shelters as well as two skating rinks and a sledding hill. In the winter, many seniors enjoy these activities with the young children in their families. One of the greatest benefits for seniors in Foley is Foley Area C.A.R.E, Community Action Respecting Elders. C.A.R.E. hosts many great events for seniors including breakfasts and dinners, craft sales and more. Along with the programs and events from C.A.R.E, many senior clients also enjoy walks around the city and through the parks.
Customized Home Care and Senior Care Services in Foley, MN
We offer more than just home care, when you leave your loved one with a senior caregiver from Comfort Keepers, we offer peace of mind. Our senior care services are customized to meet the changing needs of your loved one. Some seniors may only require home care for a few hours a week, but need full-time care when family is out of town; other seniors require 24 hour care all the time. Our care services include dementia care, Alzheimer's care, respite care, end of life care and other basic home care and companionship services.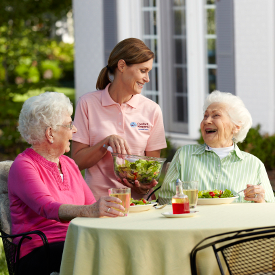 Help Your Loved One Today
If you or your loved one could benefit from Comfort Keepers of Waite Park & St. Cloud, MN's senior care services or would like to learn more, please contact us or call us at (320) 230-9939 any time to speak with a member of our home care staff in Foley, MN. We can schedule you a free in-home care consultation where we can discuss your options in detail face-to-face.