LIttle Falls, MN
Annandale, MN
Rice, MN
Gilman, MN
Royalton, MN
St. Stephen, MN
St. Augusta, MN
St. Cloud, MN
St. Wendel, MN
Sauk Rapids, MN
Waite Park, MN
Clearwater, MN
Watab, MN
Collegeville, MN
Maple Lake, MN
Avon, MN
Foley, MN
Cold Springs, MN
Morrison County, MN
Oak Park, MN
Stearns County, MN
Sartell, MN
Clear Lake, MN
Sherburne County, MN
Holdingford, MN
Benton County, MN
St. Joseph, MN
Bowlus, MN
Wright County, MN
In Home Care Services in Cold Spring, MN
Comfort Keepers is a leading provider of in home care services in Cold Spring, MN
Cold Springs, MN is termed by developers as the best kept secret in Minnesota, and our caregivers would have to agree. Not only is Cold Spring home to many beautiful city parks, but also has a few hidden restaurant gems. Comfort Keepers of Waite Park & St. Cloud, MN has served many seniors in Cold Spring, MN with top-rated in home care services since 2004. Many of our clients like to experience the many perks of Cold Spring with their senior caregivers.
Community Involvement in Cold Spring, MN
Many seniors take advantage of the beautiful parks in Cold Spring, MN. One park features a baseball field, which many seniors frequent with their caregivers in the summer. The Rocori Public School District has a senior center that provides activities such as line dancing, cribbage, quilting, pickle ball, classes, speakers and more. The Rocori Senior Center is a staple for the senior community in Cold Spring, MN and is considered the center of arts and culture for anyone over the age of 55.
Expert-Level In Home Care and Senior Care in Cold Spring, MN
We understand the hardships of providing care for a loved one, especially without the help of others. Comfort Keepers has a variety of services available to meet the ever-changing needs of your loved one in Cold Spring, MN. Some seniors may only need respite care when a family caregiver is out of town, whereas other seniors may need 24 hour care. No matter your needs, we have a in home care solution for you. Our other care services include dementia care, respite care, incidental transportation, Alzheimer's care and other basic personal services.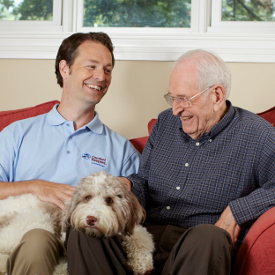 Your Path To Quality Care Starts Here
If you or someone you know could benefit from the home care services offered by Comfort Keepers of Waite Park & St. Cloud, MN, please contact us or call us 24 hours a day at (320) 230-9939 to speak with a member of our senior care staff. We can schedule you a free in-home consultation where we can discuss your care options in person.