Boyds, MD
Rockville, MD
Clarksburg, MD
Damascus, MD
Sandy Spring, MD
Riderwood
Derwood, MD
Silver Spring, MD
Darnestown, MD
Germantown, MD
Chevy Chase, MD
Bethesda, MD
Potomac, MD
Wheaton, MD
Garrett Park, MD
Glen Echo, MD
Takoma Park, MD
White Oak, MD
Poolesville, MD
Gaithersburg, MD
Olney, MD
Kentlands, MD
Kensington, MD
Leisure World
Burtonsville, MD
Montgomery Village, MD
Home Care in Bethesda, MD
Information you should know about in-home care by Comfort Keepers in Bethesda, MD Call us today: (301) 340-0100.
In-home care is a type of care that allows seniors to age in place. This means they can receive the care they need in the comfort of their own homes rather than in a nursing home or other type of facility. In-home care services can include help with activities of daily living, such as bathing, dressing, meal preparation and eating, light housekeeping and laundry, transportation, and companionship.
Comfort Keepers is a leading home care agency and a licensed provider of home health care services in Bethesda, MD. We offer a wide range of services to meet the unique needs of each individual we serve. We also offer a free in-home consultation to help you determine what type of care your loved one needs. Call us today to learn more about our in-home care services and how we can help your loved one age in place safely and comfortably.
Our home care services go beyond companion care and assistance with ADLs, we provide a care plan specifically tailored to the needs of seniors with varying home care needs including Alzheimer's disease and dementia, those transitioning home from a hospital or medical facility, and those in end-of-life care. Our skilled and trained staff are experts in providing the highest quality of care for seniors.
We are here to assist your senior with aging-in-place in their own home for as long as possible and we are available 24 hours a day, 7 days a week.
We provide more than home care services in Bethesda, MD! Beside home care services in Bethesda our professional caregivers provide compassion senior Companion Care in Bethesda, MD.
Comfort Keepers provides companion care in Bethesda that your elderly loved one needs to age in the comfort of home.
At Comfort Keepers, we provide more than just aging-in-place services and care. We provide a trusted friend for your senior loved one. Our Bethesda caregivers work to build real relationships with clients while providing them the essential services they need to be comfortable and cared for in their Bethesda home. Each client is paired with a caregiver who shares similar interests and best matches the client's personality and need for care.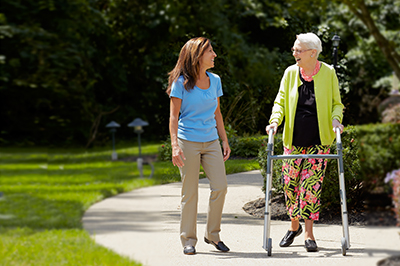 Many families and seniors in Bethesda find our Interactive Caregiving service to be very beneficial. Companion care is just a small component of our Interactive Caregiving approach to senior care. It is a service that stimulates seniors mentally, physically, socially, and emotionally in order to promote healthy aging and comfort.. Caregivers provide interactive care by participating in activities with seniors such as yoga classes, walks along the river or park, crossword puzzles, senior engagements, and more. Seniors need companionship. According to recent studies, lonely seniors have a 59% higher risk of mental and physical health decline. Studies have also shown that seniors who are lonely have a 64% greater risk of developing Dementia and other conditions.
Call Us to Find Out More:
(301) 340-0100
Respite Care - Comfort Keepers provides respite care in Bethesda, MD to provide your family the break you need to provide your senior loved one with the best possible care.
Respite care is a form of short-term care that is designed to provide relief for caregivers. This type of care can be used on a regular basis, or it can be used as needed in order to give caregivers a break from their caregiving duties. Respite care can be provided in the home of the senior, in the respite caregiver's home, or in a facility such as a nursing home or assisted living facility.
There are many benefits to using respite care, including:
• Allowing caregivers to take a break from their caregiving duties
• Giving caregivers time to rest and recharge
• Providing seniors with high-quality care
• Allowing seniors to stay in their own homes rather than being placed in a facility
No matter what your situation is, Comfort Keepers can help take some of the burden off of you and your family by taking on some of the responsibility. Did you know that 23% of caregivers report that their health is poor as a result of taking care of their elderly loved ones? Our team at Comfort Keepers can allow you and your family to take care of yourselves while we take care of seniors and other adults who have varying levels of need and are at different stages in life.
If you're interested in finding out more about our respite care services in Bethesda, we'd be more than happy to tell you more. We can provide your family with a free in-home consultation, during which we'll meet you and your loved one and assess their needs for care. If you're interested in learning more about our respite care services, please fill out the form below.
Dementia Care in Bethesda, MD - Comfort Keepers provides dementia and in home memory care to help your senior loved one continue to live comfortably in the safety and familiarity of their own home.
We have assisted families who are in the same situation as yours by keeping their elderly loved one comfortable and safe in their own home. Our Comfort Keepers caregivers have been trained to give the highest quality of care to seniors who are struggling with Alzheimer's and dementia.
Our dementia care in Bethesda focuses on providing seniors with a high quality of life while providing ongoing engagement. Our unique approach to dementia care, called Interactive Caregiving, provides clients with the mental, physical, and emotional stimulation they need to stay sharp and enjoy the Montgomery County community.
Personal Care - Comfort Keepers caregivers provides sensitive personal care in Bethesda to assist your loved ones with Activities of Daily Living (ADL).
Comfort Keepers can provide a wide range of services to help your loved one with their activities of daily living. These services can include:
- Bathing
- Dressing
- Grooming
- Toileting
- Transfers and Ambulation Assistance
Learn More About Comfort Keepers in Bethesda
Would our in-home care services in Bethesda be a good fit for your elderly loved one or family? We will work with you and your loved one to develop a personalized plan of care that ensures your loved one's needs are met and you have peace of mind. Get in touch with us today to find out more. We're here to help however we can.