Boyds, MD
Rockville, MD
Damascus, MD
Sandy Spring,MD
Derwood, MD
Silver Spring, MD
Darnestown, MD
Germantown, MD
Chevy Chase, MD
Bethesda, MD
Potomac,MD
Wheaton,MD
Garrett Park, MD
Glen Echo, MD
Takoma-Park,MD
White-Oak,MD
Poolesville,MD
Gaithersburg, MD
Olney, MD
Kensington, MD
Burtonsville, MD
Montgomery Village, MD
Senior In Home Care in Bethesda MD
Comfort Keepers® is proud to serve the city of Bethesda and its neighboring communities. Our top priority is to ensure that your loved ones receive the most compassionate and professional in-home care available.
Our trained caregivers, called Comfort Keepers®, provide customized services, from mobility assistance to medication reminders to light housekeeping, with the goal of preserving a safe and comfortable lifestyle for seniors.
We also offer life-enrichment activities, including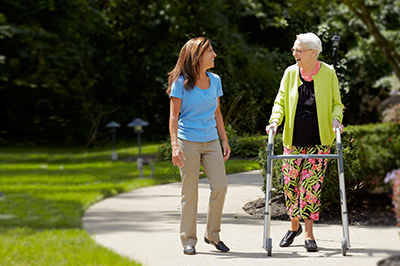 playing cards, reminiscing over family photos or taking a stroll around the neighborhood. Our compassionate caregivers can provide ongoing, long-term care as necessary. If your loved one needs mobility assistance or suffers from dementia, such as Alzheimer's, let a member of our team assist in her care and provide respite for you.
At Comfort Keepers, we also understand how important it is to maintain independence and an active lifestyle outside the home. Whether your loved one has a craving for goodies from Georgetown Cupcake on Bethesda, has a doctor's appointment at Potomac Physician Associates on Fernwood Road, or just wants to check out the latest bestsellers and movies at the Bethesda Library on Arlington Road, our caregivers will be there to provide safe, reliable transportation.
Call us today at (301) 340-0100 to learn how we can help your family.
Respite Care in Bethesda, MD
It takes a special kind of person to care for a family member who needs help. At Comfort Keepers, we are proud to work with family caregivers of Bethesda, MD to ensure that they have the tools they need to provide excellent care to their loved ones. One of the best ways to offer the best care to your family member is to get the rest and personal time that you need. When you are with your loved one, you will have focus and contentment that enables you to provide loving care.
Respite care is essential for family caregivers who are struggling to balance the needs of their senior loved one with demands of jobs, family, and other responsibilities. Family caregiving often becomes a more significant commitment than anticipated, quickly leading to frustration and caregiver burnout. Comfort Keepers of Bethesda helps you avoid these pitfalls of family caregiving and enjoy the time that you have with your loved one. We provide part time or temporary assistance, so that you can take the time you need to have balance in your life.
Comfort Keepers offers expert caregiving in Bethesda that will give you the confidence to share your caregiving duties with us. Feel free to take a break, attend to other responsibilities, or even take a vacation. You can rest assured that Comfort Keepers will care for your loved one as if they were our own family.
We are leaders in the Bethesda, MD area in superior in-home care for seniors, so you can trust us with the care and support of your family member as well. Our objective is to maximize quality of life for the seniors we serve. When providing respite care to family caregivers in Bathesda, we are also dedicated to providing support and encouragement.
Comfort Keepers of Bethesda is available on any schedule you need to provide a safe, clean environment for your loved one. Caregivers prepare meals, provide transportation, and serve as friendly companions in any activity or conversation your loved one would like to participate in.
Do you need help caring for a loved one in Bethesda? Contact Comfort Keepers today for expert in-home care.
Customized In-Home Senior Care in Bethesda, MD
Comfort Keepers® offers a complete range of senior in-home care services to families just like yours in Bethesda, MD. Our expert caregivers provide professional, reliable and loving care to your loved one. A customized care plan is developed to address the needs of each individual client. Caregivers are carefully selected and matched with our clients based on their personality, having the right skill set, having general experience with a client's particular needs, and being geographically near the client's home.
Our caregivers are screened, trained, insured and bonded. Senior care services are available ranging from few hours a week to 24/7 round-the-clock care.
Below is a summary of some of the available senior in-home care services in Bethesda, MD.
Homemaker / Companion Care
Every senior has unique care needs and situations. Comfort Keepers offers a full range of companionship and personal care services. Seniors who are able to live independently and need very minimal care may enjoy a visit from our visiting caregiver – they can indulge in conversations, play favorite board/card games with seniors, visit with family and friends as well as other activities. To allow the seniors to stay independently and safely at their home in Bethesda, services such as meal preparation, laundry, light housekeeping, grocery shopping/errands, incidental transportation and medication reminders can be added into the routine.
Personal Care
Our loving and caring, yet professional caregivers treat each senior with respect and dignity. We can help your loved one with essential tasks of daily living such as bathing, grooming, transferring, positioning, toileting and incontinence care, feeding and more.
Transitioning Home
This specialized care helps ease your loved one's transition from hospital or rehab center when they are released to come home.
Dementia and Alzheimer's Disease Care
Our specially trained caregivers provide customized care for seniors who are experiencing symptoms of Dementia or Alzheimer's disease. We apply our unique approach to providing care, called Interactive Caregiving ™, that transforms the day-to-day caregiving into opportunities for meaningful conversation and activities that engage and enrich the lives of seniors physically, mentally, socially, and emotionally.
End of Life Care
Comfort Keepers can support you and your loved one, by working with a hospice agency or medical provider to fully meet the family's care needs.
To get started, the next step is to give us a call or fill out the form below and speak with one of our care coordinators. We will discuss your needs, answer any preliminary questions and setup a free, no obligation in-home consultation. You can reach us at (301) 340-0100, 24 hours a day, 7 days a week to discuss your senior care options.