Welcome To Comfort Keepers Home Care in Davenport, IA and surrounding areas
Proudly providing care to seniors in Davenport, DeWitt, and the surrounding areas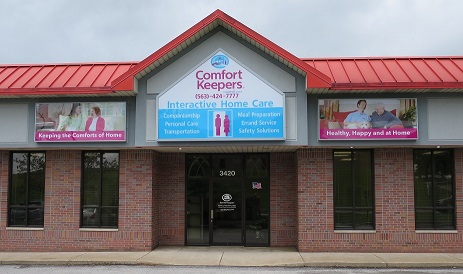 We believe that home remains the safest place for you or your loved one. At Comfort Keepers Home Care, we feel fortunate to be able to provide quality, compassionate care at home.
Our number one priority is to allow for your loved ones to remain safe, comfortable, and independent in their own homes. We have been doing this for 20 years making us an expert in senior care. From our caregivers to our office staff we make it our mission for your loved one to achieve the highest quality of life. We do this by providing your senior with a customized care plan tailored to not only their specific needs but also their personality, interest and hobbies. This is only made possible by our unique approach to senior care, Interactive Caregiving.
Interactive Caregiving is the method that sets us apart from our competitors. At your free virtual care consultation, we will evaluate your loved one's needs and get to know them better. Our care coordinator will sit down with the family and figure out the perfect care plan that is available to alter at any time! However, Comfort Keepers goes above the day-to-day tasks by transforming basic caregiving into meaningful conversation. Your in home caregiver will have your senior getting active and out and about in activities they love or events they wish to go to.
This is a great way for your loved one to bond with their caregiver and create a lasting friendship. Our personal care aides are passionate about uplifting your senior's spirits and believe they can help restore some of their own passions. If your dad is a baseball fan, his caregiver can take him to a Quad Cities River Bandits game. Does your mom love painting but doesn't know how to get back into it? We would love to take her to a studio class! Are your parents overdue for a date night but need mobility assistance? We can assist them to a concert or movie. These are just a few examples of how our caregivers can help your loved one make the best of their golden years. Regardless of the level of care they need, we are here for them!
In addition to this exclusive Comfort Keepers approach, we offer specialized home care such as respite care, end of life care and dementia care. Of course, we provide personal and companion care services, too. Regardless of which care program your senior needs, Interactive Caregiving is always incorporated.
We invite you to explore our site so that you can discover more about what home care services we have to offer. If you have any questions, please give us a call at (563) 770-3305.
---
NOT SURE WHAT CARE YOU MAY NEED?
If you have worried about your senior loved one living on their own, it might be time to consider in home care. Begin the process by taking a short survey to help you better understand when the time has come to pursue care options.
---