Welcome to Comfort Keepers Home Care in Davenport, IA
Comfort Keepers home care in Davenport, Dewitt, Clinton, and the surrounding regions is dedicated to providing elders with expert home care services, personal care, and companionship in the comfort of their own homes.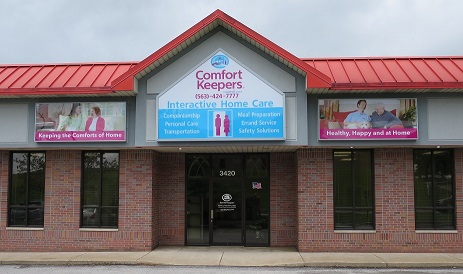 Comfort Keepers is a market-leading provider of in-home care services situated in Davenport, IA. Our home care services are accessible 24 hours a day, seven days a week for seniors and the elderly. Companionship and homemaking services, 24-hour care, respite care, and private duty nursing are just a few examples of the services we provide. Comfort Keepers is a company that provides care services in the Davenport area and nearby locations. We provide high-quality, professional, and sensitive care to seniors in their homes, allowing them to maintain their independence while while living better lives.
It's a pleasure for us to lend a hand to someone and ensure that their needs and requirements are addressed to the best of our abilities.
Our senior care programs offer a variety of services that can be tailored to meet the needs of short- or long-term residents, depending on their individual circumstances. We can work together with you, your family, and your insurance company to get you on the road to providing high-quality care in your own home. Please call (563) 424-7777 for additional information about senior specialized care in Davenport, IA.
---
Care Plans for Every Individual
All of Comfort Keepers' home care plans are adaptable to your and your loved ones' individual needs, and they include a variety of services to help you live more comfortably at home. We all like to believe that no two people are the same, and that this does not alter as we get older. We offer and recommend a free care consultation before beginning any home care service to ensure that we are fulfilling the specific needs of elders and their loved ones.
Comfort Keepers, based in Davenport, IA is committed to treating all of our clients with decency and respect while improving their overall quality of life. As soon as you start working with us in Davenport and its surrounding regions, your family will become a member of the Comfort Keepers family. We provide a wide range of senior services, some of which are highly popular:
For you and your family, companion care and friendship in the comfort of your own home prevents loneliness and isolation.
Instead than conducting activities for the patient, Interactive Caregiving necessitates the ability to actively motivate them to engage.
Senior transportation is all about assisting elders in maintaining their freedom by following them to and from activities, shopping, and errands.
In addition to medical therapies, clients with Alzheimer's & Dementia are encouraged to participate in intellectual, emotional, and physical activities.
Those who require round-the-clock assistance and prefer to remain in their own homes can take advantage of 24-hour home care services.
When you and your loved ones are at their most vulnerable, end-of-life care is essential.
---
Contact Us Today To Learn More!
Our caregivers are passionate about uplifting your senior's spirits and believe they can help restore some of their own passions. We invite you to explore our site so that you can discover more about what home care services we have to offer. If you have any questions, please give us a call at (563) 424-7777 or click the button below.
Is Home Care The Solution For You?

---
NOT SURE WHAT CARE YOU MAY NEED?
If you have worried about your senior loved one living on their own, it might be time to consider in home care. Begin the process by taking a short survey to help you better understand when the time has come to pursue care options.