In-Home Care that Elevates the Human Spirit
Comfort Keepers® Provides In-Home Senior Care in Evansville, Highland, Melody Hill, New Harmony, Newburgh, Poseyville, Princeton, and the surrounding communities.
With our compassionate in-home senior care services in Evansville, Indiana, your loved one can safely remain at home and enjoy a comfortable, active, and fulfilled lifestyle. They do not even have to consider moving away from their home as they can get all the support they need right there. Our Evansville caregivers can provide assistance with all those daily tasks and activities that have become too difficult for them to handle on their own - and make a real difference in their life on a day-to-day basis.
Our expert in-home care team in Evansville, IN, is qualified to provide all our services and devoted to helping your loved one make the absolute most of their senior years, without letting age-related problems stop them from leading a physically, mentally, and emotionally active lifestyle filled with joy.
Comfort Keepers is also unique in that our in-home care services in Evansville, Indiana extend to more than just traditional assistance with activities of daily living. Namely, we also provide medication reminders, a wide range of personal care services, and incidental transportation in the area. But that's not all - we can support your loved one in a myriad of other ways too! For example, if your parent or relative would like to start a new hobby but doesn't where to begin, our caregivers can provide them with valuable advice and information about the available resources in Evansville, IN. What's more, if your loved one would like to go to the movies or have a cup of tea in their favorite cafe, our home care providers will be more than happy to meet those needs. We believe in a holistic approach to caregiving and that this experience cannot be complete without the formation of a strong bond between the client and the caregiver. That is why companionship is such an important component of our services.
Why Choose Comfort Keepers In-Home Care
Our Comfort Keepers location has been a leading in-home care provider in Evansville, Highland, Melody Hill, New Harmony, Newburgh, Poseyville, Princeton, and the surrounding area for years. At Comfort Keepers, we provide a wide variety of in-home care options for seniors and other adults that can be customized based on need. Other than our wide range of in-home care services, we also leverage our unique approach to care, called Interactive Caregiving, which focuses on engaging seniors and other adults physically, mentally, and emotionally.
Our In-Home Senior Care Services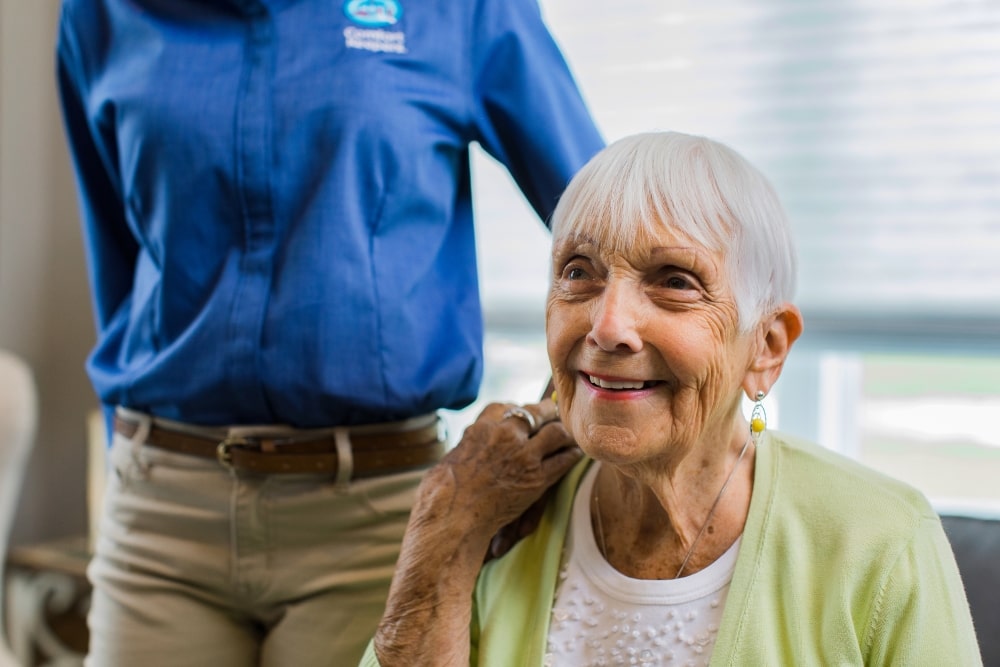 In-home care isn't a one-size-fits-all approach. Comfort Keepers provides home care services tailored to each individual's needs and unique situations.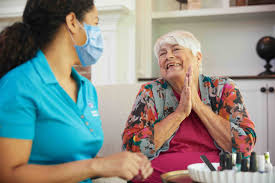 Our experienced and compassionate caregivers can assist with personal care such as bathing, mobility assistance, grooming, and more.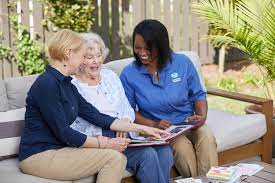 At Comfort Keepers, we offer customized services and flexible scheduling that gives family caregivers a well-deserved break. Care can be scheduled as needed.


Check out our most recent blog posts and resources about senior care in Evansville.

3 Ways to Help an Aging Loved One Remain Independent at Home
For many, with aging, comes some common challenges. Luckily, if a senior wants to remain independent, there are options. Here are 3 ways to support your aging loved one who wants to remain in the comfort of their own home Read More

50 Ways to Bring Seniors Joy this Holiday Season
There are many ways to bring connection, purpose, and hope to seniors this holiday season and all year round. It can be refreshing and fun to incorporate new ideas and shake up our everyday routine, especially during holidays. Read More

Helping Seniors Avoid Isolation this Holiday Season
The holiday season is a time to celebrate and reminisce about the year, but it can also be a lonely time of the year; especially for some seniors. Here are 4 ways to help seniors to avoid isolation. Read More

Tips for Handling Caregiver Stress
Respite care can provide a self-care solution for family caregivers and provide them with time to focus on mental health. Read More
NOT SURE WHAT CARE YOU MAY NEED?
If you have worried about your senior loved one living on their own in Evansville, it might be time to consider in-home senior care. Begin the process by taking a short survey to help you better understand when the time has come to pursue care options.