Respite Care Allows You to Rest, Recharge & Focus on Yourself.
Comfort Keepers Provides Compassionate Respite Care in Vero Beach, FL
We understand that providing care for your senior loved one can be an extremely rewarding experience, but the responsibility of being a full-time caregiver can be stressful, even in the best situations. When family caregiving is balanced with a successful career and/or caring for your own children, compassion fatigue can occur, and family caregivers are likely to become less effective in all of their roles. Comfort Keepers understands that this happens, which is why we offer a service called Respite Care. This care provides temporary relief to individuals who provide care to family members who might otherwise need to live in a nursing home or assisted living facility outside the home.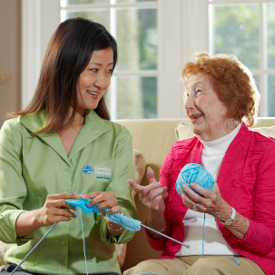 What is Respite Care?
Respite care is temporary care service (known in some countries as "short break" care) in which a caregiver provides planned short-term in-home care for families and other unpaid caregivers who need time outside the home or to simply take a rest. Comfort Keepers' care helps support and maintain the primary caregiving relationship.
How Can Respite Care Help My Family in Vero Beach, FL?
Respite care services give you or the primary family caregiver some time to leave your home and duties for a few hours or even a few days. While you rest and recharge, you will have peace of mind knowing that the senior you care for is in great hands. This creates time to:
take care of the errands you never seem to have time for.
catch up on your shopping.
attend a support group meeting.
visit a doctor or dentist for routine care.
give yourself a much-needed rest.
Comfort Keeper's respite services are flexible - you may schedule care for as little as a few hours a week or even around-the-clock care, give us a call today at (772) 999-6726. This flexibility gives you time to go on vacation, attend a wedding out of town, take a child to college, or simply run errands. This short break allows you to return to duties rested and ready to take on the next challenge and continue the rewarding experience of providing care for a senior loved one.