Respite Care for Family Caregivers in Ocala, FL, and Surrounding Areas
Being the primary caregiver for a loved one can provide personal satisfaction and bring you closer to your loved one, but it can also be tiring, stressful, and demanding. To maintain their health and well-being, it is important that family caregivers take time to care for themselves and preserve other relationships and aspects of their lives. Comfort Keepers can offer family caregivers assistance by providing much-needed respite care.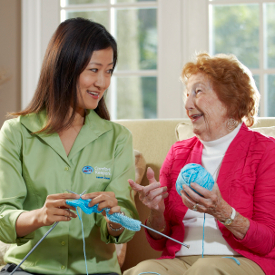 What is Respite Care?
Respite care services are planned short-term breaks from caregiving responsibilities for individuals, families, or other unpaid caregivers who need time to take care of other responsibilities, attend special events or activities, or enjoy a little time off from the caregiving role for rest and relaxation. This type of end-of-life care does not replace the primary caregiving role but supports it and helps caregivers avoid unhealthy fatigue or burnout.
Managing caregiving responsibilities along with other obligations in life can be stressful. Respite care from Comfort Keepers gives you time to take care of yourself, run errands, attend medical or dental appointments, attend family activities, catch up on shopping, or enjoy some well-deserved rest time. Whatever your situation, Comfort Keepers is flexible enough to meet your schedule and can provide respite care for the amount of time you need. If you need extended time for business trips or want a family vacation, Comfort Keepers can arrange 24-hour, in-home care for your loved one, so your loved one receives the end-of-life care they need while you are away.
Make an appointment for a complimentary home care consultation today.
Are you a resident of Ocala, Silver Springs, Summerfield, or the surrounding Florida regions and need expert in-home care? Is a member of your family struggling with various health issues that make it challenging to operate daily? Comfort Keepers Home Care is here to assist you. Contact our elder care services today to arrange a free no-obligation consultation to learn more about our specialized long-term care programs and how they may benefit you or your senior loved one. Our caregivers will be glad to meet with you to discuss our overall elderly care services and which best suits your loved one. Contact us via (352) 221-9582 or our Home Care Survey to start the conversation on providing aide to your senior relative who needs it most: