Customizable Personal Care at Comfort Keepers in Hollywood, FL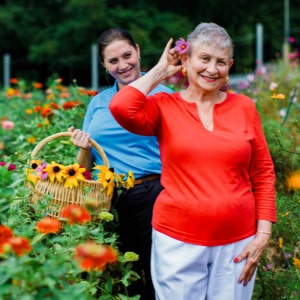 Seniors often have difficulties maintaining personal care and hygiene – some have mobility problems that make even basic routines difficult, some have memory issues and forget that they need to take a bath or brush their teeth, and some are unable to safely perform tasks due to depleting health or other age-related challenges.
At Comfort Keepers, we can help your loved one maintain proper hygiene and much more! Our personal care plans include assistance with:
Bathing and/or showering
Toileting and incontinence care
Transferring and positioning
Mobility assistance
Washing and styling hair
Dressing and undressing
Putting on accessories
Brushing teeth and cleaning dentures
Applying makeup
Shaving
And more
Our trained, compassionate caregivers can also help with other daily tasks – they can prepare healthy meals following your loved one's diet, make sure your parent's home is clean, provide medication reminders, run errands, and go grocery shopping.
Our personal home care providers can also help with transportation. Whether your loved one would like to go see friends or has an appointment they can't miss, our caregivers can safely and comfortably drive them to and from any destination in Hollywood, FL. And our caregivers can keep your loved one company too!
Understanding that seniors with special needs – like those with dementia or Alzheimer's – need specialized care, we also offer memory care that can include any number of services your parent needs for independent living at home, despite their condition.
How we can help
Our services are available on a part-time, full-time, or 24/7 basis – whenever you need our help, we will be there. All our care plans are fully personalized, so your loved ones will get tailor-made care according to their wishes, requests, interests, and personalities. Our caregivers will get to know your loved ones and encourage them to stay mentally and physically active.
Getting started with personal care and other care services from Comfort Keepers is as simple as it gets. All you have to do is call us and schedule your free consultation where a client care coordinator will talk to you about your family's needs and start working on a personalized care plan. When you are happy with the plan, we will match your parent with a compatible caregiver – and you can rest assured all our caregivers assist with hygiene and other tasks with the utmost respect for the client, minimizing any discomfort or embarrassment!
Contact us today!
We are here for your loved one! Call us today to schedule your free consultation with Comfort Keepers of Hollywood, FL.