Comfort Keepers Offers the Best Companion Care Services for Seniors in Hollywood, FL
A trained, dedicated care expert can significantly boost your loved one's quality of life at home in Hollywood, Broward, and Miami-Dade Counties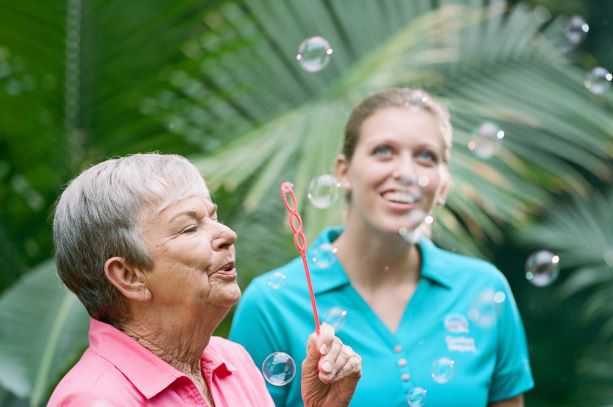 Whether your aging loved one requires some level of assistance with activities of daily living or you just do not like them being alone at times when you cannot come over to visit,
Comfort Keepers is here to help. Our independently owned and operated Hollywood location can provide customized in-home companion care and assist your Mom or Dad in those areas of independent living where they need help.
Our mission is to provide a customized combination of valuable assistance and loving companionship so that we may elevate your loved one's wellness and quality of life as much as we possibly can.
In Hollywood, FL, Comfort Keepers companion care services include but are not limited to:
Light housekeeping – As our loved ones age, certain everyday tasks become too strenuous for them to manage all on their own. Our trained caregivers can be there to ensure your parent lives in a clean, tidy environment. We assist with dusting, vacuuming, cleaning countertops, mopping floors, doing the dishes, and more.
Meal preparation – Eating a healthy, well-balanced diet is essential to your loved one's overall health and we are more than happy to prepare nutritious, home-cooked meals for Mom or Dad. When required, a professional Comfort Keeper can also cook for special dietary restrictions or provide feeding assistance.
Medication reminders – When seniors have to juggle several different medications on a daily basis, it is all too easy to get the schedule mixed up or forget to take them on time. This safety issue can be properly addressed with the help of our dedicated companion care experts. We can provide medication reminders, assist with reading labels, open medication containers, and more.
Senior transportation – To maintain a quality lifestyle, older adults need to stay active and connected with the community. But when a loved one does not have a driver's license or a vehicle anymore, getting around town can be hard. Our transportation services are a safe, reliable way for your Mom or Dad to get to doctor's appointments, church services, support groups, family celebrations, trips out of town, or anywhere else they want to go.
Contact Us Today
Do not hesitate to reach out to Comfort Keepers of Hollywood at (954) 289-1938 to learn more about the benefits of companion care and schedule your free consultation with our local experts.