Comfort Keepers Provides Quality Companion Care and Senior Care in Hollywood, FL and Surrounding Areas
We care for the physical, emotional, social and mental needs of your loved one with our companion care plan in Hollywood, FL and Miami, FL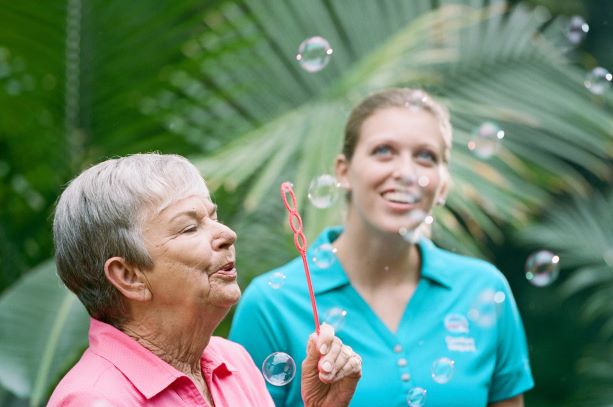 Whether your aging parent needs assistance with everyday activities or you just worry about them being alone all day, we are here to help. Companion care provided by our compassionate and trained caregivers might be the right answer for you.
Here at Comfort Keepers in Hollywood, FL, we have developed a unique approach to senior care. Not only will our caregivers assist your loved one with daily tasks and activities, but they will also provide companionship, conversation, and security.  Thanks to this approach we are able to ensure your loved ones physical, mental, emotional as well as social well being. With our companion care, we are able to improve your loved one's quality of life and secure their independence.
Here at Comfort Keepers of Hollywood, FL, our companion care services include:
Meal preparation and feeding assistance – We understand how healthy nutrition can improve your parent's overall health. That is why our dedicated caregivers can prepare home-cooked meals for your parent while following any dietary restrictions they might have.
 
Transportation services – Many seniors don't have a driver's license or are unable to drive due to various health reasons, which is why they stay at home instead of engaging in various activities. With our transportation services, your parent will be able to lead an active life and stay engaged in their community. Whether they have a doctor's appointment, or simply want to go shopping, we are here to drive them wherever they need to go.
 
Light housekeeping and laundry – As we age, some everyday tasks become harder to complete. We are here to ensure that your parent spends their days in a clean environment. Our companion care providers will help them with light housekeeping such as vacuuming, dusting, cleaning the windows, washing the dishes and doing laundry.
 
Medication reminders – Seniors who need to take several different medications during the day easily get their meds mixed up or even forget to take them. Our caregivers can ensure that your parent takes their medications as prescribed and on time, and can assist with opening medication containers and reading labels.
 
Grocery shopping and errands – If your parent is unable to go shopping, we will gladly assist them. Our caregivers will run errands and, if possible, encourage your parent to join them on the trip.
If you wish to learn more about our companion care and senior care services, please call our office in Hollywood, FL, today, at (954) 289-1938!