Veterans Aid and Attendance
Learn more about veterans aid and how aid and attendance can change your seniors life.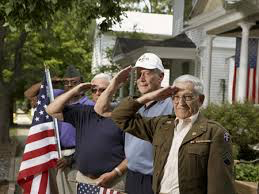 One of the most underutilized benefits available to American veterans is their right to Aid and Attendance. Often seniors are not aware of the availability of this payment assistance for in-home care and, therefore, go without the essential care that they need. Comfort Keepers can help you understand your potential benefits and use them to receive top quality in-home care. We are devoted to ensuring that seniors get the help they need for a higher quality of life lived as actively and independently as possible.
The Aid and Attendance VA benefit is not new. It has actually been in existence since 1952 when an increasing number of World War veterans were requiring care. There are three requirements that must be met in order to qualify for the Aid and Attendance benefit.
Military Service
At least one day of active service during defined wartime periods is required. In addition, the veteran must have served for at least 90 days of active duty, including at least one day of wartime duty, and been honorably discharged.
Wartime periods that determine eligibility are defined as follows:
World War II veterans serving December 7, 1941 – December 31, 1946
Korean Conflict veterans serving June 27, 1950 – January 31, 1955
Vietnam War Veterans serving August 5, 1964 – May 7, 1975
Vietnam Veterans serving in Vietnam before August 5, 1964
Persian Gulf War veterans serving August 2, 1990 to present
If you or a loved one actively served for at least 90 days during one of these wartime eras, you may be eligible for Aid and Attendance benefits.
Medical Condition
The veteran or family member receiving benefits must have chronic health condition that interferes with their ability to drive and requires in-home care to assist with illness and disability. Doctors' statements will be required documentation in order to apply for veterans aid benefits. Homebound seniors who need help with everyday tasks can get an extra pension to cover the cost of a caregiver and companion to assist them with personal care, household tasks, and mobility.
Monetary Need
Eligibility for veterans aid is need based. Therefore, veterans must fall below specified income levels in order to qualify. The value of the veteran's assets are also taken into consideration to determine their need for financial assistance with in-home care service. The VA will evaluate each individual's ability to bear their medical expenses based on their financial situation and level of care required.
Other Important Information
These benefits are given in addition to each veteran's pension, so you do not have to worry about your overall benefits decreasing when you apply for Aid and Attendance.
The surviving spouse of a veteran who fulfilled the eligibility requirements is also qualified for veterans aid benefits.
Benefits can be used for in-home or nursing home care.
Comfort Keepers can help.
Because applying for benefits with the VA can be complicated and overwhelming, many disabled seniors simply go without benefits that they are eligible for. Our Veterans Home Care specialists guide seniors through the application process and assist them with required documentation. Instead of struggling without the help they need, veterans can claim their full benefits and receive access to required care.
We help throughout the application process and after the deserved pension is received because we are dedicated to seniors. Each individual is treated with dignity and respect while we help them to receive the full benefits that they have earned through their service time.
Contact Comfort Keepers today to speak with a Veterans Home Care specialist and discover how we can help you or your loved one.