The Redlands Comfort Keepers team includes highly trained and certified professionals.
Our team is ready to support and improve the quality of life for your loved ones in the comfort of home.
We value compassion and trustworthiness amongst our caretakers and support staff. Our team is ready to answer questions and discuss a care plan that works best for you and your loved ones.

George Macias, CSA
Director of Operations
George Macias is Director of Operations for Comfort Keepers Redlands, Riverside, Corona office. In this role he oversees the day-to-day operation of the business including client intake and care, caregiver hiring and training, and community involvement. George has a personal passion for improving the quality of life of seniors. George is a Certified Senior Advisor which provides him with a deep and thorough understanding of the challenges and opportunities seniors face which impact their quality of life. George has been involved in the Senior Healthcare industry since 2011. George loves how our services can also bring our clients families some peace of mind.
George previously owned an in-home care business in the Inland Empire. Before that, he worked for 25 years in retail management. George is on the boards of Inland Association for Continuity of Care, the Yucaipa Chamber of Commerce and Smiles 4 Seniors, an emergency assistance organization for Inland Empire seniors. He is a husband and father of two and is very involved in the local community.

Carolyn Hagan
Office Manager and Accounting Manager
In 2005 Carolyn began her career with Comfort Keepers as a Home Care Aide and over time was promoted as our Office Director and Accounting Manager.
As our Office Director and Accounting Manager, Carolyn has made it a priority to ensure that the office work environment is always a pleasant one. Carolyn stated, "We set the tone for our caregivers and the quality of care they provide for our clients. It is essential that we view each other and our clients as family. Comfort Keepers is unique because of the quality of care and joy our caregivers bring into our client's lives. It is more than a job, it is making a difference in someone's life, and them making a difference in ours as well."
Outside of work Carolyn enjoys camping with her husband of over 25 years, gardening, travel and spending time with the family.

Blanca Rodriguez
Scheduler
Blanca began her career with Comfort Keepers in 2011 as a Home Care Aide Caregiver, specializing in providing Hospice Care to our Senior Clients. In 2015 she was brought in as an Office Staff Member to start a mentoring program for our caregivers. In time she was promoted again, as our Lead Client Care Coordinator. As our Lead Client Care Coordinator, she oversees all scheduling matters bet_ween clients, caregivers, and medical facility partners.
Having had the unique opportunity to experience a variety of positions within Comfort Keepers has given Blanca the experience needed to best help our Senior Clients. Blanca has stated, "I am blessed to enjoy a career I love. My goal is to be a positive and encouraging team player so that together we can better serve our clients."
Outside of work she enjoys volunteering with two ministries, hiking and spending time with her family and friends.

Christina Garcia
Care Coordinator
Christina has been a certified Social Service Designee since 2004. Over the past several years she has worked as a Social Service Designee, Admission Coordinator and Veterans Biller.
In 2016 Christina joined our Comfort Keepers team with the aim of establishing care for our Veterans Community. As a Veterans Client Care Coordinator, Christina works to match our Veteran Clients with our qualified Home Care Aides. Christina has stated, "My goal is to help our clients achieve a better quality of life and to support the families caring for their loved ones. Our Veterans are a special part of our community. I treasure their military stories and seeing their faces light up as I listen to them."

Mandy Hutton
Client Care Coordinator and Care Ambassador
Mandy began her career in Health Care in 2008 and in 2010 obtained an AA Degree in Science and became a Licensed Psychiatric Technician. In 2015 she joined our Comfort Keepers team and has applied her specialized training to meet the needs of those with Alzheimer's disease and Dementia.
Mandy has a deep passion to improve the quality of life in each of our clients. She strives to ensure that our clients individual needs are met by means of person-center care and creating a supportive environment. Mandy has stated, "I love this job, the company, and the true compassion they show both their clients and caregivers. Every morning I am happy to go start work and look forward to what my day has in store for me."
Outside of work she enjoys taking traveling adventures with her husband, and spending quality time with her family and friends.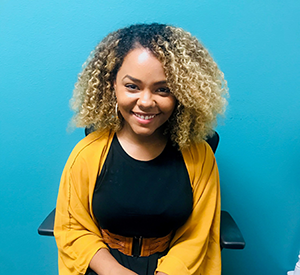 Melanie Rupiya
Resident Care Coordinator -Comfort Keepers at Westmont Living
In September 2019, Comfort Keepers and Westmont Living Senior Community collaborated to bring in-home caregiving to Westmont Living Residents.
Since the beginning of this collaboration, Melanie has served as the Resident Care Coordinator for Westmont Senior Residents.
Melanie says "I love working with each of our amazing residents and our amazing team of caregivers in this unique setting. I feel so fortunate to come to work everyday and be a part of this care collaboration to benefit our seniors."
When she is not at work, Melanie enjoys cooking with her husband, tasting coffees from around the world, and volunteering as an American Sign Language Bible study teacher.

Tracey Bello
Client Care Coordinator
Prior to working with Comfort Keepers, Tracey spent 20 years as a purchasing Agent for the T.M. Cobb Company. In 2012 she made a career change in the pursuit of her true passion, providing care for seniors, and joined our Comfort Keepers team.
As a Client Care Coordinator, Tracey works to match our Clients with our qualified Home Care Aides. She takes a sincere interest in both our new and established clients to ensure they receive the best of care. She has said, "I love my job and the astonishing seniors we are honored to meet and provide care for. I will never tire of their stories and life accomplishments." She believes strongly in our statement that, "we shall treat each of our clients with the respect and dignity they deserve, as though we are caring for a member of our own family".
Outside of work, Tracey enjoys quality time with her three daughters, grandchildren, visiting water parks and listening to classic rock music.

Margo Gaynor
Recruiting / Hiring
In 2009 Margo joined Comfort Keepers as a Home Care Aide Caregiver. Over time she was promoted to oversee our Human Resource Department.
In this position she strives to find caregivers that have a heartfelt concern for the Senior Community. Margo leads our Comfort Keepers program for training newly hired caregivers as well providing continuous care for our already established caregivers. Margo has stated, "Ensuring that our clients are provided with the best possible caregivers is my main objective. Our Senior clients are like our family and we want only the best for them."
Outside of work Margo is an animal lover and an active volunteer in her church. Margo loves to spend time with her loving husband, four grown children and five awesome grand kids. Her hobbies are hiking, kayaking, walking, reading, and is a "beach bum" at heart!

Angela Scott
Office Receptionist
Angela has been working with Comfort Keepers since December of 2017. Prior to working with Comfort Keepers she worked for a Dental Office as an Office Receptionist and Scheduler. She finds deep satisfaction in bringing a smile to our caregivers and clients faces.
Outside of work she enjoys spending time with her family, traveling internationally, and engaging in volunteer work with her congregation.
Interested in joining the Comfort Keepers Redlands care team?
We offer competitive compensation, a highly flexible work schedule, and opportunities to impact someone's life in a meaningful and fulfilling way. Whether you're looking for a part-time job senior care job or the start of a new career, we'd love to hear from you.
Browse Jobs