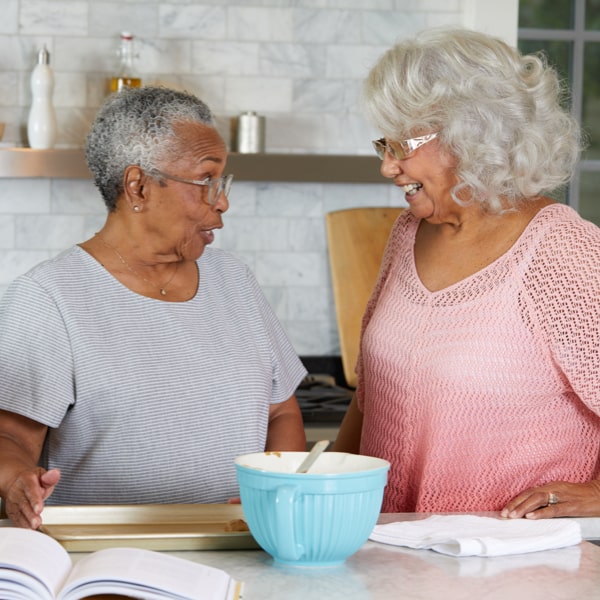 A Wide Selection Of Senior Care Services
At Comfort Keepers, we are dedicated to helping seniors with virtually every aspect of daily living in order to promote good health, happiness, and safe independence. Our experts can be there to provide senior care services for the short or long term to assist your loved ones through personal care, housekeeping, companionship, transportation, and more.
Personal Care- Let a caregiver come into your senior's home to help them with the delicate aspects of incontinence, or to bathe and dress safely. We can also make sure your senior has assistance with transferring and positioning as well as mobility in order to prevent issues such as bedsores, indigestion, and stiff muscles. For seniors that need help with cooking or eating, we can also be there to do the shopping, as well as prepare and share healthy and delicious meals.
Housekeeping- We can lend a hand around the home to make sure it is clean, in order, and a safe space for your loved one to live. Along with doing a general safety assessment, our team members can do laundry, iron, vacuum, dust, wash counters or floors, and other household cleaning tasks.
Respite Care- This is designed specifically for those in the family taking on the role of caregiving. These senior care services can help family members find time to do things such as run errands, go to personal appointments, or take vacations. They are meant to bring balance to life as well as to help those seeking it recharge so they can always be at their best when helping their loved ones.
Dementia Care- We specialize in Alzheimer's care and dementia care for seniors so they can live quality lives despite their diagnosis. Along with activities specifically aimed at strengthening cognitive abilities, our experts can also educate you on the various forms, aspects, and treatments of the disease. We've also partnered with Laura Wayman, the infamous 'Dementia Whisperer', to bring you the best care available.
Transitional Care- There may be a time when your loved one needs to recover from an injury or an illness. While this many normally jeopardize their independence, families can have a choice of care in the home with this branch of Comfort Keepers senior care services. We can carefully follow doctor after-care instructions, take on the housework, pick up prescriptions along with making sure your loved one is taking them correctly, and drive them to essential appointments.
End Of Life Care & Palliative Care Support- Our caregivers can be there to provide the most compassionate comfort and to lend you a shoulder for support. Our goal is to allow you to spend more time bonding with your loved one instead of worrying about their ailments or the tasks that need to be completed for the day. For those that have hired a third-party palliative care provider, our team can be a great complimentary service.
Our senior care services are designed to be personalized to you and your loved one's needs. Caregivers can come in a few hours a day, or on a more full-time basis. As your loved one's needs change, their plan can adapt to change with them. Schedule a free consultation to discuss your options in detail or contact us at (925) 233-6048 to learn more.