Discover The Benefits Of Interactive Caregiving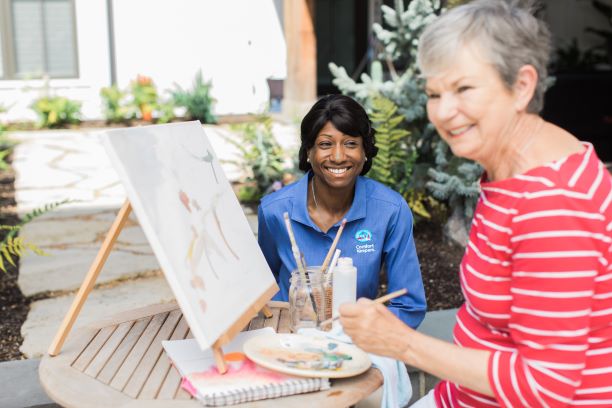 At Comfort Keepers, we are well aware that taking care of the physical, mental, emotional, and social needs of seniors is just as important as taking care of daily tasks or improving their safety at home. In other words, home care should be much more than just providing assistance with routine activities; it needs to focus on the whole person, allowing for a caregiving experience that can make a real difference.
A unique approach to home care
Our holistic approach to caregiving is known as Interactive Caregiving, as it encourages meaningful interaction between our caregivers and clients. It enables older adults to participate in all aspects of their care and remain active on all levels as they age.
In order to provide maximum effectiveness, Interactive Caregiving features four pillars, including:
Mental activity, which allows the brain to stay healthy and sharp for longer. Active minds play a key role in boosting independence, confidence, and happiness as well.
Physical activity, which can keep seniors healthy for longer and improve the symptoms of existing conditions. It can also improve mood and overall well-being.
Proper diet, which is crucial for staying healthy and vital. It provides the body with all the energy needed to engage in daily tasks.
Home safety, which can prevent falls and other home accidents. It can also promote independence.
Interactive Caregiving can be realized through a number of routine activities, such as
Going for daily walks
Cleaning and organizing the home
Preparing meals
Talking and sharing memories
Playing games and solving puzzles
Looking at old photographs
Running errands
And more
Basically, every activity can be a good opportunity for employing the Interactive Caregiving model. What this means is that your loved one can participate in any number of daily tasks and bond with their caregiver along the way.
You can use this methodology too!
The principles of Interactive Caregiving should be applied to the care provided by family members as well. 
While it can be difficult to balance all your responsibilities as a family caregiver, it is of vital importance not to overlook your loved one's inner needs - the need to stay connected with the world around them, feel useful and valued and maintain good relationships with their loved ones. Your loved one can enjoy a much higher quality of life by actually being a part of their care instead of just being a passive care recipient.
Contact us
If you would like to learn more about us and how we can help your loved one, please give us a call at (714) 975-8446 or fill out a form on our site today. We are here for you!