Senior Care in Union Grove, WI
Comfort Keepers Provides Senior Care In Union Grove, WI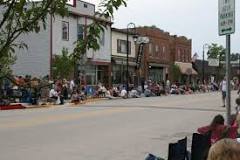 If you are in search of senior care for a loved one residing in Union Grove, WI, know that Comfort Keepers stands at the ready to provide the care your family may require. We provide a number of basic services to allow an aging adult to remain in their home as long as possible. Our caregivers are trained in caring for seniors who have a number of conditions, including dementia and Alzheimer's. At the end of the day, family members can rest assured knowing that a caregiver from Comfort Keepers is assisting their loved ones with life responsibilities and providing companionship.
Some of the basic services Comfort Keepers provides include assistance with bathing, dressing, meal preparation, housekeeping, laundry work, feeding, incontinence care, and medication reminders. When a caregiver is with your senior loved one, they will do everything possible to ensure their safety and make sure their needs are met. Since Comfort Keepers is able to customize their service to each individual client, they are able to assist with respite care or stay with a client for up to 24 hours a day.
Caregivers focus on Interactive Caregiving as part of their senior care in order to keep clients motivated to enjoy their life to the fullest. With Interactive Caregiving, caregivers focus on mental, physical, and social needs. In order to keep your senior loved one active mentally, caregivers will play games that are mentally challenging, take part in puzzles together, and communicate with aging adults. Caregivers like to keep clients physically active by encouraging them to move around, walk around the block, perform gardening responsibilities, and other activities.
Caregivers are able to offer non-medical in-home care to a wide variety of clients, even those who have Alzheimer's or dementia. Because caregivers are able to provide care for many types of seniors, they understand the responsibilities associated with each particular situation. In the end, you will not have to worry about taking care of their aging loved ones at all hours, as a caregiver from Comfort Keepers is there to handle this responsibility.
Caregivers from Comfort Keepers place a heavy emphasis on companionship with their senior care services. Companionship is what separates caregivers from Comfort Keepers from other in-home care providers in Union Grove, WI. A caregiver will spend time with your loved one on a regular basis, so they are able to make a connection with them and give them an outlet for their thoughts. Throughout the day, caregivers encourage clients to remain active and are always there to participate in activities with them.
Family members who want to learn more about the senior care services provided by a caregiver from Comfort Keepers in Union Grove, WI can contact us at (262) 299-0320.