In-Home Senior Alzheimer's Care in Tyler, TX
by Comfort Keepers®
The benefits of in home care for seniors with dementia or Alzheimer's Disease are many. In home care allows the senior to remain in a familiar and comfortable environment, surrounded by their friends and family. This can be very important for someone with dementia, as they often become confused and agitated when away from home.
In home care also allows the caregiver to provide personalized care based on the individual needs of the senior. This can include help with activities of daily living such as bathing, dressing, and grooming, as well as providing medication reminders, companionship, and emotional support.
Another benefit of in home care is that it is often less expensive than other forms of long-term care such as nursing homes or assisted living facilities. And finally, in home care provides peace of mind to both the senior and their loved ones, knowing that they are being taken care of in their own home.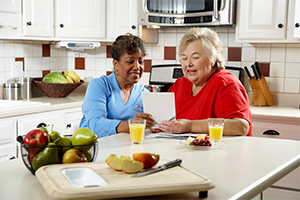 Comfort Keepers provides caregiving services for seniors living with dementia or Alzheimer's Disease. Our caregivers are specially trained and experienced in providing assistance to those who have memory impairments. We work with each client and their family to create a personalized care plan that addresses the individual's specific needs. Whether you need part-time or full-time care, we can help.
Our in home memory care services are geared towards assisting families and seniors who are worried about losing their independence. There is no additional fees for memory care versus other in home care agencies.
Comfort Keepers in Home Memory Care in Tyler, VA is a unique in-home caregiving service that specializes in providing care for seniors with dementia and Alzheimer's disease. The caregivers at Comfort Keepers are specifically trained to deal with the challenges posed by these conditions, and they are passionate about helping their clients to maintain their independence and quality of life. In addition to providing practical assistance with activities of daily living, the caregivers at Comfort Keepers also provide emotional support and companionship. This type of holistic care can make a profound difference in the lives of seniors with dementia and Alzheimer's, and it is something that you can be confident in when you choose Comfort Keepers in Home Memory Care in Tyler, VA.
Our Memory and Personal Care Services include the following (based on your needs and a customized, individual care plan):
Mobility & Transfer Assistance
Bathing
Toileting
Incontinence Care
Personal Hygiene
Dressing
Grooming
Feeding
Bed-Bound Care
Our office serves seniors in Tyler, Corsicana and the surrounding areas of Northeast Texas. To learn more about our in home dementia care services, please call us at (903) 509-4424 or contact us online.