Respite Care for families in San Antonio, Hollywood Park, and surrounding areas
Respite Care from Comfort Keepers provides a break for the home caregiver throughout the San Antonio area
Serving as a family caregiver for a senior loved one is an admirable, and sometimes draining, undertaking. If you've found yourself in this position, it's likely that you've already come to understand the challenges of being a family caregiver. Sometimes, it can feel like you're all alone.
Comfort Keepers® of San Antonio understands how fulfilling and trying it can be to care for a loved one, which is why we offer a special program that allows caregivers the time to take care of themselves, too. Respite care, also known as "short break care," provides short-term relief to primary caregivers, so they have time for activities such as:
Running errands
Shopping
Meeting with a support group
Catching a doctor or dentist appointment
Simply taking some time to rest and be alone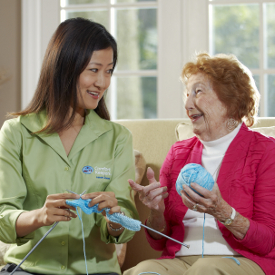 What is Respite Care?
Respite care is every caregiver's lifeline and support system. When anxiety is high, a respite care provider can step in and provide necessary assistance and take over the caregiving duties a caregiver normally performs. Overall, respite care simply gives caregivers a rest.
When a trained and qualified San Antonio Comfort Keeper® pays a visit to your loved one's home, you can take some time for yourself, without compromising your peace of mind as a caregiver. Schedule just a few hours, or full days on a regular or as-needed basis.
It's in your nature as a family caregiver to be selfless, but don't forget your responsibility to give yourself personal time and nourishment. Ultimately, the time you take for yourself will allow you to return to caregiving duties with more patience, care, and understanding. When you're in need of home care services in San Antonio and surrounding communities, Comfort Keepers is ready to step in. Request a phone call with an advisor or by phone at (210) 201-0174 to get acquainted with the San Antonio Comfort Keepers team and our services.