Eldercare and Fall Risk Reduction in Nashville, TN and Surrounding Areas
How Nashville eldercare services can prevent injury and encourage physical health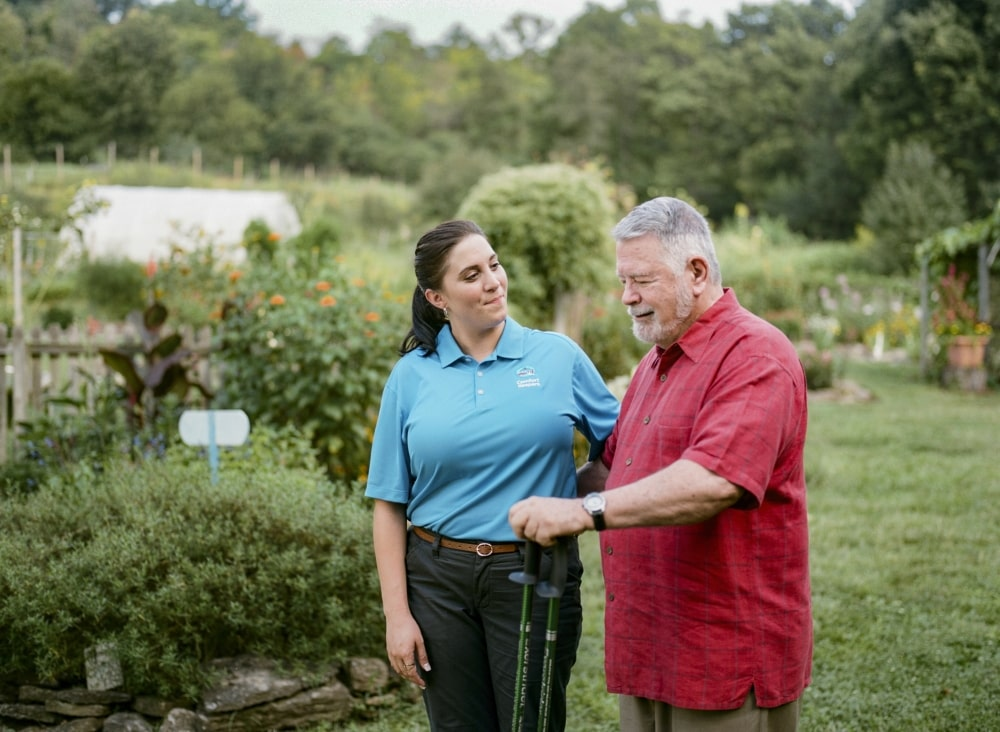 As we age, our bodies go through many changes, including what our muscles and bones are capable of, our sight and hearing, our balance, and our reaction times. All of these factors together mean that seniors are at an increased risk for injury by tripping or falling. In fact, the National Council on Aging notes that falls are the leading cause of injuries for older Americans—and the leading cause of fatal injuries. That's why the caregivers at Comfort Keepers of Nashville place such an emphasis on maintaining a safe home environment and reducing the risk of trips and falls.
When your loved one receives in home eldercare from Comfort Keepers, they'll have a knowledgeable and experienced aide at their side who knows how to identify risks and hazards around the home. Common trip and fall hazards include:
Loose rugs or uneven flooring
Lack of traction on bathroom or kitchen floors
Trouble sitting down or standing up from the toilet or bathtub
Low light or slick flooring on stairs, in hallways or in doorways
Cluttered floorplans, entryways, and other areas that reduce mobility
Your loved one's health and home are unique to them, and our eldercare providers know that maintaining independence and personal space is important to seniors who choose to age in place. Our recommendations are designed to improve your loved one's current choices, not disrupt their independence. Simple fixes like grab bars in the bathroom, secure railings in stairways, and using mobility assistance devices can make a big difference in the health and safety of your loved one.
Customized care for the safety of senior loved ones
When you start working with Comfort Keepers, we'll perform an in-home assessment of your loved one and their environment. That means that from the moment your loved one starts receiving eldercare services, we'll be looking out for their safety in their home. Our caregivers have a wide variety of helpful experiences, including the ability to help your loved one use a mobility device, identify floorplans that increase access to spaces in the home, or replace loose rugs with firmer flooring when needed.
It is vitally important that all seniors and their families have a plan in place, in case of a trip or fall. Our eldercare providers can help your family build an action plan to have on hand just in case—while also reducing hazards around the home and modifying personal habits that might contribute to the risk of a fall.
If you're worried about the health of a loved one who lives alone, Comfort Keepers is ready to help. Our local agency serving Nashville, TN and surrounding areas provides nationally recognized eldercare services and employs caregivers who are from your own community and dedicated to the well-being of your family. Contact us today or call (615) 219-5126 to learn more about our customized care plans.