Comfort Keepers Respite Care Services For Family Caregivers In North Augusta, SC, Aiken, SC, Augusta GA, Evans, GA and the Surrounding Areas
Respite care allows family caregivers to take the much-needed break they deserve
Caring for an aging loved one is not easy, but few people are aware of just how much hard work, time, and energy goes into caregiving until they take on the role of a family caregiver.
While taking care of your senior parent or relative comes with many perks and is truly a rewarding task, it is often physically and emotionally draining as well. This is especially true if you are looking after a senior loved one while trying to balance your career and raise your own family.
In actuality, draining yourself of mental and physical energy can result in compassion fatigue. Compassion fatigue amongst family caregivers is real and widespread across the nation as the aging population increases. The worst symptom is denial because family caregivers do not want to let their loved one down, nor do they want to them to feel like a burden. Although, if you continue to ignore the symptoms you will start to grow resentment toward your loved one, damaging your relationship and true reasoning as to why you started caring for them in the first place.
If you are in this situation and often feel like you have no more energy to deal with your daily responsibilities, we can help. Our respite care program was developed to support family caregivers and enable them to take care of their own needs too.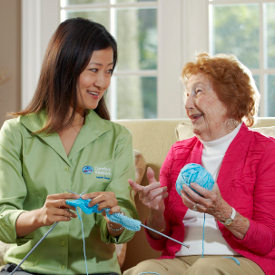 What Is Respite Care?
Respite care is short-term or temporary care that is provided to support family caregivers and allow them to rest and recharge their batteries. Here's how it works. You schedule professional care for your loved one whenever you need respite and our caregivers step in and look after them while you are unavailable. We can provide part-time, full-time or non-stop care, depending on your needs. It is important to note that our care providers will not take over your place, they will just be there to help you and give you a break when you really need one.
Supporting Family Caregivers
Our respite care providers can offer a wide range of personal and companionship care services. This includes anything from assistance with bathing, mobility, and incontinence care to meal prep, light housekeeping, medication reminders, and more. While our team is caring for your loved one, you can take care of your personal needs, from finishing stuff for work or going to a dental appointment to taking a vacation or just resting and indulging in self-care.
Discover All About Our Care Services
If respite care sounds like the perfect type of care for your family, take a few minutes to reach out to us by calling(803) 279-7100 and we will answer all your questions and doubts and schedule your free in-home consultation with one of our senior care coordinators. We are happy to be of service and provide you with some much-needed respite!