Welcome to Comfort Keepers Home Care, a Premier Senior Care Agency in Anderson, SC
Comfort Keepers Home Care has been uplifting the human spirit for over two decades through our senior care services, aiding aging adults in maintaining their freedom and finding joy in everyday situations. Our compassionate care services prioritize physical, mental, and social well-being in order to assist seniors in living their best lives at home. We want to help loved ones across the Oconee, Piedmont, and Pickens Counties take control of their lives, experience it more fully, and reclaim all that life has to offer. Reach out to us if you think our senior care services can benefit you or your loved ones at (864) 402-4077
---
Are you Considering a Career as a Comfort Keeper?
Comfort Keepers is looking for people that are devoted and sensitive to join our growing team. You'll have several opportunities to develop your career as a Comfort Keeper. You'll help seniors keep their dignity and independence. You'll be there as a companion and a shoulder to cry on. You'll also be helping to make a difference in the lives of seniors. Please use the button below to apply for one of our open positions.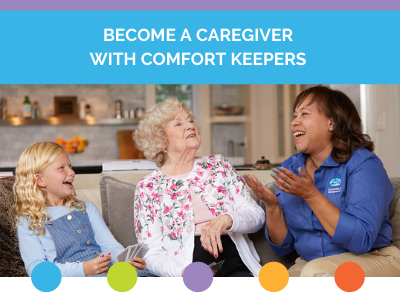 ---
Care Services We Provide
At Comfort Keepers, we offer two types of care: in home care and specialized care. We are dedicated to aiding elders with various needs, ranging from simple daily living assistance to hands-on care for specific needs. Take a look at our extensive list of care services below:
In Home Care
Companion Care - Our carers strive to develop long-term relationships with their clients while aiding them with daily tasks.
Personal Care -considerate support with unique requirements such as bathing, clothing, and grooming.
Safety Care - Our SafetyChoice products help seniors be independent and secure in their homes, even when they are alone.
Senior Transportation- We provide transportation for seniors to and from appointments as part of our senior care service.
Seniors and Technology - Our senior care providers can assist you in making the most of current technology.
Interactive Caregiving – we look after seniors' minds, bodies, and spirits so they can live their best lives every day.
Specialized Care
24-hour care - seniors can count on us for care and support 24 hours a day, seven days a week.
Dementia Care - Memory care for seniors with Alzheimer's disease, dementia, or another form of cognitive loss.
End-of-life care - Assistance in the final stages of life, such as when a senior citizen has been told they have a fatal illness.
In-Facility Care - We provide care to seniors in assisted living facilities who require additional support.
Post-Hospital Care - Our team assists elders in recovering from hospital stays and preventing hospital readmission.
---
How to Pay for the Costs of Care
Learn how to pay for private in home care. We are always willing to help families in our neighborhood find superb care at a reasonable cost. Click the button below to learn more about how to pay for care.
---
Request a Free Consultation to Learn More
Contact Comfort Keepers in Anderson, SC, if you're unsure whether your loved one requires support to retain independence or which home care services would be ideal for their care plan. We can set up a no-cost, no-obligation appointment to help you get started—from starting the conversation to preparing for your first session and beyond. To get started with Comfort Keepers, click one of the options below.