Questions To Ask When Hiring An In Home Care Provider in Marietta, Parkersburg and Surrounding Areas
Learn what to ask when searching for the perfect in home care provider for your Marietta or Parkersburgsenior loved one.
Do you guarantee all my in home care provider visits?
Comfort Keepers does guarantees all of your shifts. If an emergency prevents your scheduled Comfort Keeper from arriving as planned, you will be sent a qualified replacement. We will send a manager if we do not have a field staffer to provide your services because we take this promise very seriously. Even our owners cover shifts in an emergency.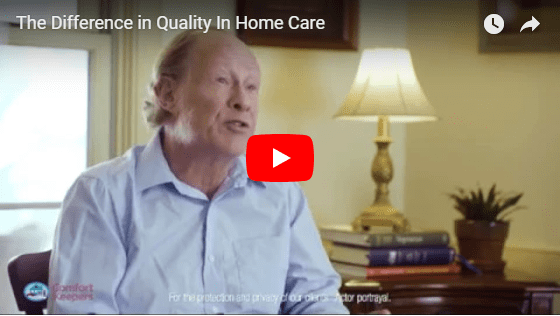 Will their replacement know how to do the things I need done?
Comfort Keepers keeps very detailed notes on your routine, what you like done, and how you like it done. We also utilize a small care team approach so many last-minute changes can be covered by someone you already know. Most consumers have the preconceived notion that the highest quality of care can only be provided by having a single caregiver assigned to their case. We have seen this assumption proven wrong many times. The benefits of working with a qualified team produces best client outcomes and highest customer satisfaction ratings.
How does management know if my caregiver is showing up for my visit, if they are prompt, and if they are staying for the entire time that I am being charged for services?
Comfort Keepers uses telephony to track where our people are at all times. When your Comfort Keeper arrives at your home, they will make a toll free call to clock in on our scheduling system. The system will check the caller i.d. to verify that they are indeed clocking in from your home. If they do not clock in at the required time from your phone number, the manager on duty will get a text message alerting them. That manager will call your house to ensure they are there and will find them if they are not. When it is time for them to leave, your Comfort Keeper will clock out from your phone and caller i.d. will again verify that they are still at your house.
If I have a question or a problem, when are your offices staffed?
At Comfort Keepers, our offices are open from 8am to 7pm weekdays and 8am to 3pm on weekends. This gives you plenty of time to reach an on-duty manager with your records in front of them ready to focus on you.
In an emergency, can a manager be reached even during an overnight shift?
Yes, we transfer our phones to the on-call phone for the overnight.
What happens if I have an urgent need for services due to some kind of crisis?
Comfort Keepers will be there for you as a client receiving regular services. If an injury or illness causes you to need around the clock services, we can staff those shifts within a couple hours. Please note that for the safety of our staff we do not send them out in the middle of the night. Call the squad for emergency care and then call Comfort Keepers when our offices open at 8am. We have the staffing and expertise to respond immediately.
Do you have nurses on staff and are you licensed to provide nursing services?
Yes!!! We are excellent at filling this gap within the health care industry! We step in and provide the nursing services that no other in home care providers are willing or able to provide such as on-going medication set ups, daily wound care, transitional care from hospital discharge to home.
When using other sources of care, sometimes nursing services are offered by unlicensed professionals. KNOW THE RISKS. The state requires a medical license to perform the types of services listed above to protect you, the consumer. If it was safe for untrained, unlicensed caregivers to provide these services, there would not be laws against it.
If my situation becomes more medically complicated, can your company provide care management?
Comfort Keepers has been managing care for our clients for years. Not only do we, as in home care providers, help clients identify problems but we can also present options and help them make informed decisions. We also help clients to take advantage of all Medicare covered services by referring and coordinating care with Medicare agencies. Comfort Keepers then fills in with the care that is not covered but is necessary for safety and quality of life.
If a service like care management or nursing is not listed on a company's brochures, it is probably not an area of expertise for the company.
How long have you been in business?
Your local Comfort Keepers opened their doors in 2004 and have won numerous awards for being a top performing franchise in the Comfort Keepers system which is ranked #1 in the world for in-home care and is widely recognized as the leaders in quality of care. We have provided over a million hours of service in that time and have won a number of national and local awards as well for being outstanding in our field.
How much training does your field staff receive?
Comfort Keepers field staffers receive approximately 100 hours of training in their first year and then about 20 hours of Continuing Education every year after that. Our program includes classroom, clinical, one-on-one instruction, coaching, role playing, skills testing, and case specific training.
What kinds of specialized training do your caregivers receive?
Comfort Keepers receive a wide variety of specialized training such as Personal Care, Customer Service, Alzheimer's/Dementia, End of Life Care, Hospice, Parkinson's, Handling Challenging Behaviors, Professional Boundaries, Hoyer lifts, and so on.
Will I be responsible for directing and supervising the staff in my home?
Comfort Keepers will send a Field Supervisor/Nurse or Team Leader to your first shift so you only have to explain YOUR way once. The Field Supervisor/Nurse will complete detailed instructions with all your preferences spelled out for your regular Comfort Keeper. Our Care Coordinators will call you regularly to find out if there is anything you would like changed about how your services are rendered and you will also have periodic visits from the Field Supervisor/Nurse to make sure you are happy. This way you do not have to deal with the unpleasant business of training and supervising your caregiver. That is our job!
We handle your feedback very discreetly so please be open and honest about your likes and dislikes.
Are all your employees bonded, insured, drug tested, and subjected to intensive background investigations and annual rechecks?
Comfort Keepers conducts the highest quality and most comprehensive background check in the industry. Not all background checks are the same. Our investigations include:
Criminal background checks conducted by court runners (not just database searches which are only accurate 50% of the time)
Alias searches
Social security traces
Abuse records
License verifications
Drug testing on 11 substances (versus the typical 5 panel drug tests which exclude prescription drugs that cause impairments)
Driving record
Professional references
Personal references
Annual re-certifications of ALL our employees
It is important to also note that not all home care providers use caregivers that are employees of the company. Some utilize 1099 workers for caregiving which means they are not actually employees of the company. They may say that all of their employees are subject to background investigations omitting the fact that the people coming into your home to provide care are not.
What are the risks of hiring someone directly to provide my care?
When someone is providing care in your home, you are their employer. Most families assume that the caregiver is in business for themselves but the law is clear. Unless they give you a company name with its own tax i.d. number, you are their employer. This means you are responsible for paying all the federal, state, and local employer taxes due on them and for withholding and submitting to the proper taxing authorities the employee's portion of the payroll taxes due. It also means that you are responsible for purchasing Workers Compensation Insurance Policy for that employee. Again, most families assume that their homeowners insurance will cover any injury to that caregiver that might occur. However, since they are a paid employee or working for their own company, they will not be covered under your homeowner's insurance. Workers Compensation claims can be very expensive. It is not usual for claims to run in the neighborhood of $150,000 for a back or shoulder injury not including lost wages or the chance of permanent disability. Know your responsibilities and protect yourself.
If you hire an individual or group of individuals, ask for their tax number and copies of their insurance policies including Workers' Comp.

At Comfort Keepers, we are proud to provide quality in home assisted living to seniors in:
The entire Mid-Ohio Valley including Marietta, Belpre and Vincent, in OH and Parkersburg and Vienna in WV.
148 Gross St #C, Marietta, Ohio 45750