Comfort Keepers In Home Senior Care, Santa Fe, NM
Who We Are, and How We Can Help
Getting out and enjoying all your town has to offer grows more difficult with age. It's harder physically, and it can get lonely. That's where Comfort Keepers comes into play. Social interaction and activities are a crucial part of maintaining your mental and physical health. We offer an interactive caregiving approach that allows you to maintain your active lifestyle. Whether it's picnicking in the park or just doing a puzzle in the living room, we ensure that you are making the most of your life.
Comfort Keepers - Your Best Choice for Senior Care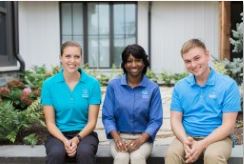 At Comfort Keepers, we provide assisted senior living services that ensure you stay involved in your local community. Our caregivers think of themselves as more than just hired help. They're companions determined to providing you with the best, most active lifestyle and without the burdens of moving to an unfamiliar and restrictive care facility. Our wide range of services include, but are not limited to, in-home care, Alzheimer's and dementia care, as well as respite care. Our caregivers are here to ensure your loved one is not only healthy but happy and enjoying all that Santa Fe and Northern New Mexico has to offer. If you have any questions regarding our care services or want to find out if we are the right match for you, feel free to give us a call at (505) 982-1298.