Comfort Keepers National Day of Joy
After a year like no other, Americans have gained a new perspective when it comes to attaining joy in their lives. Comfort Keepers®, a market-leading provider of uplifting home care for seniors and adults who need assistance, celebrated its third annual National Day of Joy on June 30, 2021. Comfort Keepers founded this national holiday, which occurs each year on the last Wednesday of June, to emphasize the importance of individuals finding joy, no matter their age, to boost their overall physical, mental and emotional health.
To celebrate that special day, our Secaucus team made flower deliveries to our caregivers and clients. In addition at the Secaucus Public Library, we handed out flowers and asked people to post on our board about what brings them joy.
Thank you for helping us celebrate this special day.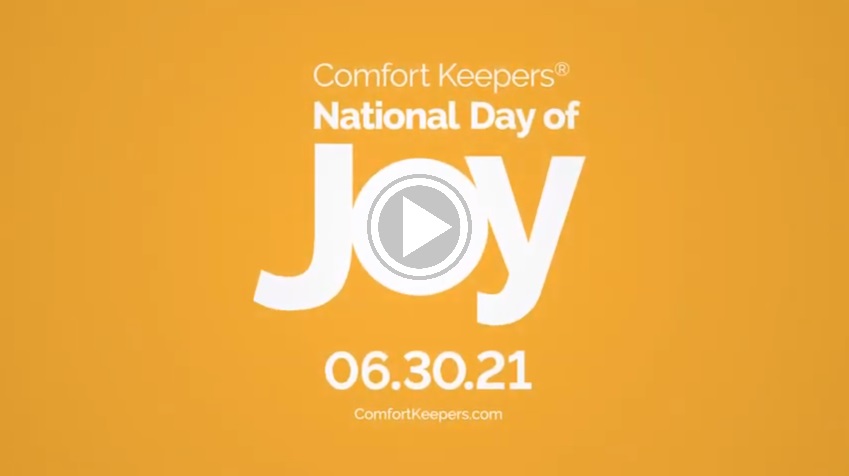 We offer a reassuring presence you can trust in Secaucus, NJ and the surrounding area
Comfort Keepers Secaucus NJ provides professional, compassionate in home senior care that enables seniors and other adults to live independently, safely and happily in the comfort of home, for as long as possible. Our professional senior assistance aides promote the physical as well as social and emotional well-being of clients. Our industry-leading care is rooted in the idea that Interactive Caregiving and a positive caregiver relationship are the foundations of excellent senior health and wellness.
Not sure what care you may need?
Comfort Keepers Secaucus NJ tailors our in home care services to match the specific needs of each client and family, scheduling care assistance at home for as little as three hours a week all the way up to full-time, 24/7 elder care. When you are introduced to your local caseworker, they will work with you to create a plan that is unique to your loved one's needs, personality and home lifestyle. Our care specialists are carefully selected based on experience and personality alignment to our individual clients, which provides optimal adult in home care.
Comfort Keepers Secaucus NJ serves seniors in Kearny, Lyndhurst, North Arlington, NJ and select areas throughout Bergen, Hudson and Essex Counties. We are able to provide unique care at home including Alzheimer's and Dementia Care and arthritis care.
Have a question? We're here to help.
Call us at (201) 771-1908 to learn more about the senior care services we provide at Comfort Keepers Secaucus NJ. We are always available to assist you and your home care needs with trustworthy dedication.
---
Our agency adheres to the principles of truth in advertising, and all information accurately represents the organizations scope of services provided, licenses, price claims or testimonials.

---
Learn how Comfort Keepers can help keep you or your loved one active, engaged, and social with the grandPad senior tablet.
Not sure what care you may need?
Take our home care assessment!
The Comfort Keepers Mission
Our loved ones have worked endlessly to provide the best possible lives and opportunities for our families. Now it is our chance to reciprocate the compassion and provide the best possible care for them. The Comfort Keepers' mission statement is to provide our clients with the highest level of quality of life that is achievable. We shall treat each of our clients with the dignity and respect they deserve, as though we are caring for a member of our own family. We live this mission every day and would be privileged to care for you or your loved one in the same way we would care for a member of our own family. Please do not hesitate to give us a call today to learn more about how we can help your senior loved one and give your family peace of mind.