In Home Senior Care & Nutritional Assistance in Cape Girardeau, MO
When it comes to senior nutrition, our caregivers can help by providing your loved one with meals they will find delicious as part of our in home senior care program
Growing into our golden years should be fun and relaxing, but for many seniors, it means no longer being able to handle many common daily tasks.
In this day and age, no senior should have to suffer malnutrition!
For the many seniors who are not able to handle preparing their own meals, the only other option is to eat a steady diet of processed foods and TV dinners. These foods offer very little in the way of senior nutrition.
Comfort Keepers of Cape Girardeau, MO offers an in home senior care plan that includes a skilled caregiver who has extensive senior nutrition training and can cook amazing meals for your loved one.
Give us a call at (573) 208-4188 to learn more!
Our Caregiver Offers Plenty of Senior Nutrition Assistance
As we move into our golden years, most of us will see a slowdown in both physical and mental abilities. Combine age with numerous prescription medications and your loved one may:
Notice changes in their sense of taste
Find their body becomes slower at producing natural nutrients
Start to see a decrease in appetite
Find their body becomes slower at absorbing outside nutrients
Among the many problems associated with senior malnutrition are an increased risk of disease, long-term illness, broken bones, and more. Recovery times start to stretch out and could leave your loved one in the hospital or bedridden. The best way to help your loved one avoid this is to make sure they are eating a well-balanced diet.
Our Caregivers Stand Ready to Assist
We consider our caregivers to be senior nutrition specialists who are ready to help ensure your loved one eats properly. As part of our in home senior care program, our caregivers can assist with many other activities such as:
Meal planning – working with your loved one, swapping recipes, and chatting all make creating meal plans lots of fun!
Grocery Shopping – shopping for groceries presents seniors with a variety of challenges such as driving and pushing the shopping cart while they shop. Our caregivers can provide the necessary transportation, help with the shopping cart and groceries, or do the shopping for your loved one.
Doing the Cooking – our caregivers will work with your loved one and help them with tasks such as peeling, cutting, and chopping fruits and vegetables (it's good for their hands and mind). If your loved one is not able to help, our caregivers can do everything from chopping the veggie to cooking a fantastic meal and doing the washing up after your loved one has finished eating.
Feeding – if your loved one is unable to feed themselves due to injury, illness, or disease, our caregivers can help by making foods that are easier to eat. They can also assist your loved one with feeding themselves in a gentle and caring way.
Our Caregivers Can Work With Your Loved One to Prepare Tasty Meals
When you live on a fixed income as so many seniors do, the bills always seem to come first and food last. Living on a diet of processed foods is no way to provide the nutrition your loved one needs. To top it off, many seniors end up spending a fortune on supplements, prescriptions, and visits to the doctor than it would cost them to eat healthily.
Working with the various local, state, and federal agencies and programs, our in home senior care program and caregiver can help your loved one be in a better place to buy or receive the nutritious foods they need. Some like Meals on Wheels offer hot meal delivery services and will leave ready to heat meals for your loved one as well. Our caregivers can use any foods your loved one receives to create delicious, nutritious meals for your loved one.
Among the many agencies are:
Find out what other benefits your senior qualifies for.
You can also help your loved one by:
Watching for sales and coupons
Keeping foods stored in the fridge or freezer to extend their lives
Buying foods that are in season
Planting a garden of fruits and vegetables
Make a shopping list and stick to it
Looking for deals at the supermarket and comparing them to those at the farmer's market
Comparing food labels, just because an item costs more doesn't make it better!
Choosing fresh food options first
Another great source of senior nutrition information is your loved one's doctor. The professional caregivers that are part of our in home senior care program are also a wealth of information on diet and nutrition.
Be sure you read the nutrition facts label on each food you buy to ensure you are actually getting what the front of the package claims. Not all claims involving superfoods, 100% XYZ, or organic are true and some of these foods are not much better than processed foods.
This is what a typical nutrition facts label looks like: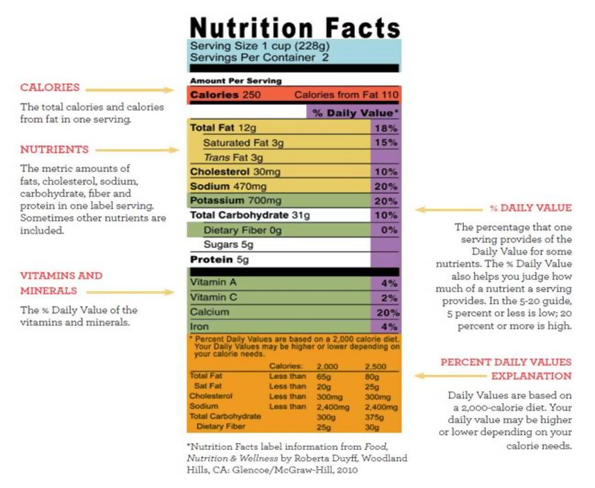 Image provided by the National Council On Aging
What About Your Loved One's Favorite Dishes?
While your loved one should eat healthy, nutritious foods the majority of the time, providing you modify the way they are made to make them healthier, there is no reason why they can't still enjoy their favorite dishes. Try cutting down on salt, sugar, and fats where possible to make his favorite foods healthy and tasty.
Contact Us
If you would like to learn more about our in home senior care, senior nutrition, or our amazing caregivers, contact Comfort Keepers of Cape Girardeau, MO (573) 208-4188 today!