Comfort Keepers Home Care in Grand Haven, MI
Learn more about our home care services that we offer in Grand Haven, MI, and the surrounding area
When your loved ones need in-home, personal home care and companionship services in Grand Haven, Comfort Keepers® is here to help.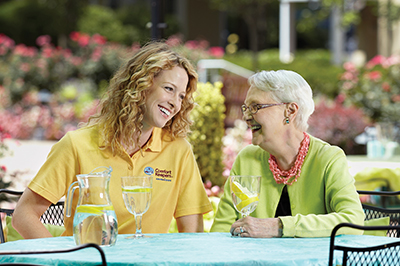 Our caring staff brings years of experience and compassion to your home. We can help with home care services such as medication reminders, bathing, and dressing, or help around the house doing laundry and meal preparation.
If Mom wants to indulge herself with a giant cinnamon roll and cup of coffee at Morning Star Café or drop by Jeanne's Café for an omelet and a visit with friends, a member of our compassionate team will be there to lend a helping hand.
What does our home care include?
Did you know that Comfort Keepers home care includes transportation assistance throughout Grand Haven, Spring Lake, Muskegon & other areas around the Lakeshore? While transportation may be overlooked as home care services, it is crucial to the well-being of your senior loved one. Often, a senior who is not able to transport themselves to their destinations every day will start to feel lonely and isolated from family & friends. However, families often have no choice but to take away a senior loved one's car keys. This necessary transition can be traumatizing for seniors, as they can feel like their freedom has been taken away. Their motivation to leave their house may dwindle and they may not want to. This lack of interest can be very discouraging to witness, and can also negatively affect your parent's health. This is where Comfort Keepers in home care steps in.
Interested in learning more about Comfort Keepers of Spring Lake, MI? Give us a call at (616) 425-8667 or contact us.