Providing Superior Dementia Care and Support in Burton, MI
Here at Comfort Keepers of Burton, MI we offer a full range of dementia care services intended to help those who have been diagnosed with either of these debilitating conditions. The most important part of our services is doing everything possible to help our clients continue to live in their own home or with family.
Give us a call at (810) 207-3770 to learn more!
Support for your family only takes
In the latest reports from the Alzheimer's Association, approximately 5.8 million Americans suffer from both Alzheimer's disease and dementia.
According to the latest statistics from the National Institute on Aging, Alzheimer's disease is the sixth leading cause of death in the U.S.
In the same report, it was noted that the symptoms of Alzheimer's tend to start showing up in those over the age of 60 and it is an irreversible and progressive disorder that affects the brain.
To date, there are no known cures for this tragic disease and currently no method of prevention. One person is diagnosed with Alzheimer's and dementia every 3 seconds around the world, and there are 50 million people with these conditions around the world. With no known cure, it often falls on the family to provide Alzheimer's and dementia care, requiring them to learn about the diseases and what it will take to provide the necessary care.
What Can You Do When You Don't Have the Time to Care for Your Loved One?
Caring for a loved one with Alzheimer's requires a significant amount of time, something many of us simply do not have enough of. Should you find yourself burning the candle at both ends and feeling like you can't do it all, the skilled caregivers at Comfort Keepers of Burton, MI have the training and experience needed to provide much-needed care. We can provide you with a caregiver who will be there to assist in your loved one's day-to-day care, meeting their needs and helping you to master the skills needed to care for your loved one.
Alzheimer's and Dementia Sufferers Can Still Live at Home
One thing that many people don't understand is that with the right level of assistance, there is no reason why someone suffering from these conditions cannot live at home. Medical research has proven that being able to live at home in familiar surroundings and being surrounded by family along with continuing their day-to-day routines will help to reduce both the anxiety and confusion that are a common symptom of Alzheimer's and dementia.
Skilled Care Provided by Professionals Can Help
Even though you are doing your best to care for your loved one, there are several very good reasons why you should consider professional Alzheimer's and dementia care for your loved one. Comfort Keepers can provide you caregivers who are trained in providing care for those who suffer from these disorders. Among the many services our caregivers offer are:
Develop a daily routine that includes a series of mental exercises combined with fun activities for your loved one. These activities have been created to help keep your loved one's mind stimulated while helping to alleviate the anxiety and stress commonly associated with these disorders.
Keep highly accurate records that can show how the disease is progressing. In doing so, they will be better able to detect the changes, making it easier for both caregiver and family to adapt their care plan to meet the challenges of these changes as they occur.
Help by taking care of important errands and by providing your loved one with transportation to dental, medical, and many personal appointments.
Our Comfort Keepers (what we proudly call our caregivers) can provide your loved one with a variety of both personal care and housekeeping services. Among these are:
Bathing/Grooming
Incontinence Care
Transportation
Light Housekeeping
Laundry
Meal Preparation
This is only a small sample of the many services our caregivers offer based on their needs as well as yours. Our goal is to keep your loved one's home (even if it's yours) clean, livable, and most important of all livable.
Our Comfort Keepers are also available to provide you, the familial caregiver, with a range of respite care services along with our Alzheimer's and dementia care that gives you time to catch your breath and indulge in a little self-care.
Moreover, our caregivers can provide you with extensive training and education that covers working with and caring for a person who is suffering from Alzheimer's disease and dementia.
Take Action Through Fun Activities
Your loved one can keep their mind and body stimulated through a variety of daily tasks, games, and more! See our activity cards for some great ideas you can share with your Burton, MI family!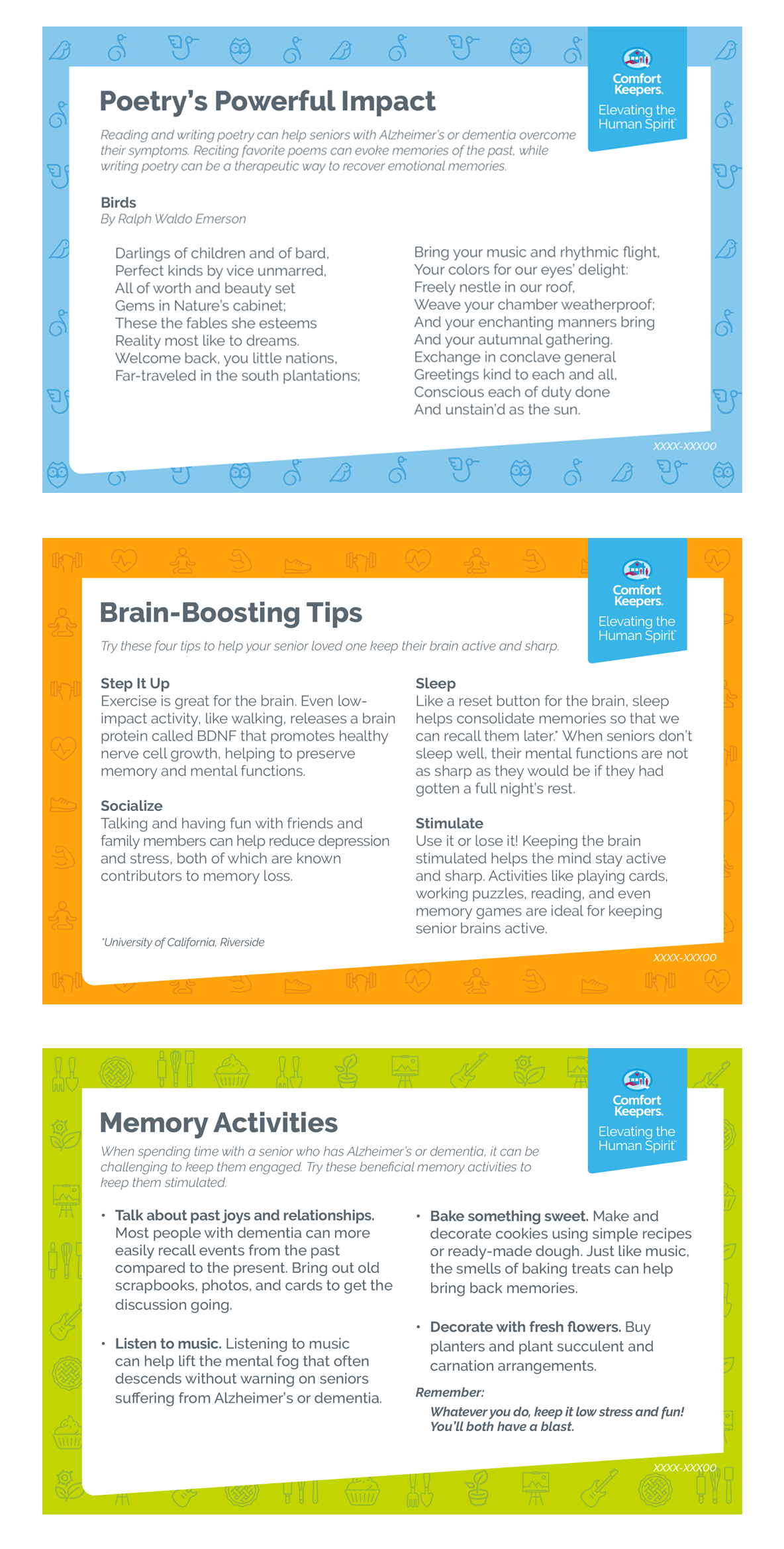 When a loved one has been diagnosed with one or both conditions, you need a team of experts at your side to ensure your loved one gets the best possible Alzheimer's and dementia care. We invite you to contact Comfort Keepers of Burton, MI at (810) 207-3770 and speak to one of our advisors about a free care consultation to discuss your loved one's needs and the many care options we offer. Let us help your loved one to enjoy being able to continue living safely at home.