Our In Home Senior Care Nutritional Program in Burton, MI
Senior Nutrition is an important part of in home senior care at Comfort Keepers of Burton, MI
For many seniors, the most difficult part of aging is not being able to do many of the tasks they have been doing all their adult life.
This does not mean they should not be able to eat nutritious meals!
When shopping and cooking start to become too much for many seniors, many start cutting back on how much they eat. Others turn to boxed or frozen meals that are completely lacking ingredients vital to senior nutrition. 
Our in home senior care plans include expert caregivers can prepare foods that meet all senior nutrition needs.
Give us a call at (810) 207-3770 to learn more!
Why the Focus on Senior Nutrition?
A major part of aging includes changes to a senior's mental and physical abilities. When you add in the many medications, many seniors find that they:
Notice changes in their sense of taste
Might find their body becomes slower at producing natural nutrients
Start to see a decrease in appetite
Might find their body becomes slower at absorbing outside nutrients
When a senior starts to cut back on their nutrition, doing so can cause problems such as loss of mobility, broken bones, disease, and illnesses. It can also make it take longer for them to recover.
The best way to combat these problems is to make sure they are eating foods that promote senior nutrition. 
How Does Our Care Help?
Our amazing caregivers fulfill many roles as part of our in home senior care. One of which is to ensure those trusted to their care. When it comes to senior nutrition, our caregivers can help with:
Making Meal Plans – From shopping lists to sharing favorite recipes, our caregivers make sure their senior clients have well-balanced meals to eat, including special diets.
Going Shopping – When driving or pushing the shopping cart become too much for the seniors in our care, our caregivers step in. They can provide transportation and shopping assistance or take care of the shopping altogether. They also use their client's coupons to keep costs under control.
Meal Prep – When simple yet important tasks such as cutting, chopping, peeling, and managing heavy pots and pans become too much, our caregivers can help. They can either assist with preparing the meal or take care of the entire process.
Feeding Assistance – Illness, injuries, and aging can make it hard for many seniors to feed themselves. Our caregivers can help by preparing meals that are easy to eat (and make enough for leftovers). If the time comes when your loved one can no longer even attempt to feed themselves, our caregivers can take over with complete respect to their dignity.
Our Caregivers Can Create Delicious, Nutritious Meals
Living on a fixed income can leave seniors unable to make ends meet. One of the first places they start cutting back on is the foods they buy and how much they eat. They buy frozen and boxed meals that have no nutritional value and end up spending a fortune on supplements and prescriptions.
While it might be difficult, activities like cutting, chopping, and peeling can help with arthritis, dementia, and more.
The good news is that there are several assistance programs available to help. Some, like Meals on Wheels who deliver hot meals and meals that are ready to cook for those times when their caregiver or family members are not available.
Among these programs are:
You may also visit this website to find out which programs your loved one is qualified for
Your loved one can also save money by:
Keeping foods stored in the fridge or freezer to extend their lives
Planting a garden of fruits and vegetables
Watching for sales and coupons
Looking for deals at the supermarket and comparing them to those at the farmer's market
Comparing food labels, just because an item costs more doesn't make it better!
Choosing fresh food options first
Make a shopping list and stick to it
Buying foods that are in season
Although seniors may need fewer calories, eating the wrong foods can lead to malnutrition. As part of our in home senior care program our caregivers can help prepare healthy meals. 
Among the foods that should be added to their diet are:
Fruit
Protein/Fish
Low Fat Dairy
Whole Grain
Vegetables
Your loved one's doctor can help create a healthy diet and when shopping, be sure you read the labels. Not all foods are as nutritious as they say they are.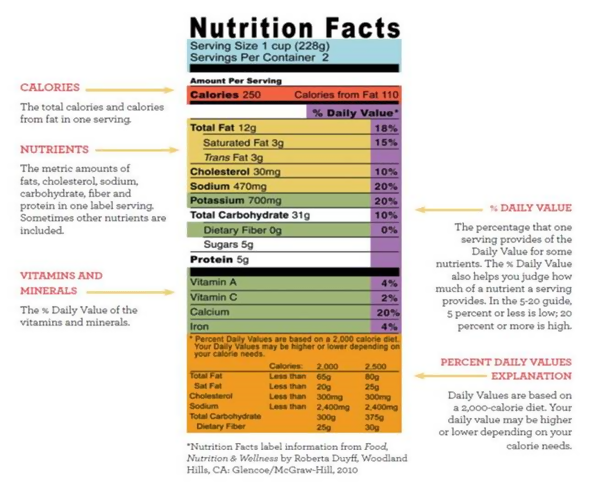 Image provided by the National Council On Aging
Your Loved One Doesn't Have to Give Up Their Favorite Foods
While it's very important for your loved one to keep to a healthy diet, it doesn't mean they can't still enjoy a few of their favorite foods. Look for healthy ways to prepare them, such as cutting down on fats and salt. This can make things a little easier at mealtimes. 
Contact Us  
When it comes to senior nutrition, finding the right ingredients can be challenging, but with a little practice, you will soon be making great meals. If you would like to learn more about our in home senior care and nutrition programs, contact Comfort Keepers of Burton, MI at (810) 207-3770 and talk to our nutrition experts.