Welcome to Comfort Keepers - One of the Leading Providers of Senior Care Throughout Annapolis, Pasadena, Severna Park, and Neighboring Communities
We are now living in an age in which professional senior care, as we get older, doesn't mean the loss of independence. While services like assisted living facilities and nursing homes are still viable options for seniors, there is an emerging type of senior care that allows them to stay where they are most comfortable: home. With the help of Comfort Keepers Home Care, your aging loved ones in Annapolis and the surrounding area can stay independent, healthy, and safe at home for as long as they'd like. Contact our office today at (855) 205-1382 to learn more.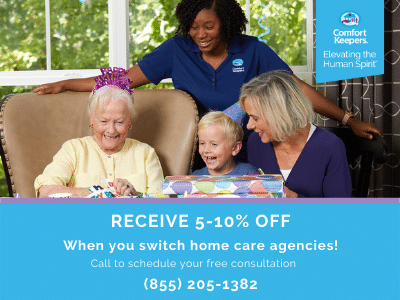 ---
Caregiver Bay Armstrong talks with memory care experts Toni Reinhart and Peggy Breda about the measures Comfort Keepers are taking to ensure the safety of our seniors and staff.
---
How Can Comfort Keepers Help?
Comfort Keepers offers a wide range of senior home care services that help seniors with activities of daily living and specialized needs. Our goal is to give seniors their best quality of life while ensuring their safety. We can do this by partnering our clients with a dedicated care provider who can deliver senior care services such as:
In Home Care:
Personal Care - dignified assistance with personal tasks like bathing, dressing, and grooming
Interactive Caregiving – our holistic approach to care in which we do tasks with our clients instead of for them
Respite Care - we can step in when a family caregiver needs to take a break to focus on their own needs and well-being
Specialized Care:
Dementia Care - specialized memory care for seniors with Alzheimer's, dementia, or another form of cognitive decline
Post-Hospital Care - our team helps seniors recover from hospital stays and avoid hospital re-admission
End of Life Care - essential care and support for seniors diagnosed with a limited life expectancy
When it comes to your loved one's custom care plan, it can be arranged so our caregivers visit their home for just a few hours a week, or a few hours daily. There is also 24 hour home care available for those with more extensive needs, or families requiring short-term emergency help.
---
Not Sure What Care You Need?
If you find yourself wondering if your loved one may need some support to remain independent, or what services would be ideal for their senior care plan, complete our survey. We can help you take the first steps- from starting the conversation, to how to prepare for your first visit, and more.



Take a peek at what we have to offer to seniors by seeing how Jackie and Don plan their visits together! Elevating the human spirit involves interweaving love and joy into every moment.
---
Safety Is Our Top Priority
We aren't kidding when we say, 'safety first! Even at your earliest moments of working with Comfort Keepers, your senior's wellbeing is our number one concern. Our experts are available 24/7, so family members currently taking on the caregiving role can schedule emergency services or get resources to educate themselves and improve their care approach.
There is also our free care consultation where our experts will visit your loved one's home to discuss our service options and evaluate their living space for any hazards. Even when providing our home care, seniors are taught healthy living habits that can help prevent falls or other harmful accidents in the home.
Finally, there are our caregivers. These individuals have been carefully screened, tested, and selected to provide our special brand of care. They must hold our values of leadership, compassion, and professionalism at all times, in addition to actively monitoring your senior's needs. Our caregivers look forward to spending meaningful time with your loved ones and cannot wait to make a positive difference in their lives.
---
Schedule Your Free Consultation Today
Are you interested in learning more about our home care services and compassionate caregivers in Annapolis and the surrounding area? Contact our office today to speak with one of our staff members to get started. They will be happy to answer any questions you may have about our senior care agency and can schedule a free, no-obligation consultation with a care coordinator. To get started, click one of the buttons below.
Call Us Today Fill Out Our Form
---