Alzheimer's Care in Shreveport, LA & Surrounding Areas
You are not alone. Specialized Alzheimer's care can help care for your loved one at home, giving you the support you need.
Caring for a loved one with dementia or Alzheimer's disease in the home can be physically and emotionally draining.
Watching someone close to you go through the aging process is a difficult transition; watching them lose the memories the two of you used to share is even more difficult. Modern-day life prevents many of us from providing the type of care we would like to provide to our senior loved one, but know they can't be left to themselves. Patients diagnosed with Dementia or Alzheimer's may have an incredibly difficult time maneuvering through every-day activities or may even be dangers unto themselves if left alone. These types of situations call for around the clock dementia care, or at the very least, someone who is able to check up on the situation as often as possible.
We understand the challenges faced by family caregivers attempting to provide Alzheimer's care and can help ease the burden with our professional support.
Comfort Keepers of Shreveport, LA provides customized Alzheimer's care for clients who are experiencing symptoms of dementia or Alzheimer's disease. Our Comfort Keepers® are specially trained and ready to help.
To learn more about Alzheimer's care, contact us or call (318) 934-0090 to schedule a free in-home consultation. One of our care coordinators will work with you and your senior loved one to develop a personalized home care plan to accommodate their needs, wants, interests and goals.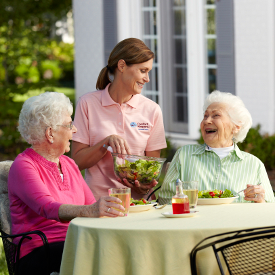 What is Dementia and Alzheimer's Disease Care?
In general, dementia is a decline in mental ability, such as memory loss or an inability to complete familiar tasks, serious enough to interfere with a person's daily life. Alzheimer's disease is the most common type of dementia, accounting for 50 to 80 percent of dementia cases. Our services help people with these symptoms by focusing on their remaining abilities and strengths while assisting with tasks that have become difficult for the client to perform.
How Comfort Keepers Can Help
Our specially trained dementia care Comfort Keepers® will
help maintain a safe environment for the client.
engage the client in activities that can stimulate the senses, such as music.
provide meals and bathing assistance.
support the client and family through the changing behaviors often seen with dementia.

We customize our in-home care to meet each client's special needs, taking into consideration his or her health and ability. Depending on the client's needs, Comfort Keepers can provide care for just a few hours a week or provide full-time, in-home care. Through our 24-hour senior care service, a team of Comfort Keepers coordinates caregiving responsibilities in shifts. This offers clients and their families' full-time peace of mind.
Dementia Care for Seniors in Shreveport, LA
Learn More About Comfort Keepers Specialized Dementia Care in Shreveport, LA
Most people think that dementia is all about memory, which is a common misconception. More than just about not being able to remember where you last put your car keys or the remote control, dementia is a condition that causes people's personalities to change due to paranoia, hallucinations, delusions and other cognitive problems arising from neurological decline. This makes communication with a person having dementia difficult, and caring for that person much harder.
Dementia is also a condition that progresses over time. And because the mental decline would have a great impact on one's body, it also makes the person more prone to illnesses and injuries. What's worse is that except for memory loss, all the other symptoms of dementia are quite difficult to detect, and this is mainly because of failure or inability to communicate. And when these patients do get diagnosed, the dementia would have already been developed for quite some time.
Much like the condition itself, caring for a loved one who has dementia becomes increasingly hard over time. The physical and emotional complexities tend to be too much for family members to handle. After all, most families are not equipped or trained to provide care for someone with dementia.
Shreveport, LA Dementia Care Services
Comfort Keepers, one of the leaders in the U.S. home care industry, offers professional dementia care as a solution for families who need assistance in caring for a loved one with dementia. Whether you need part-time or full-time caregivers, Comfort Keepers is available any day throughout the year.
The main goal of these dementia care services is to ensure the safety and independence of your loved one while he or she stays at home. Our caregivers will employ a personalized approach to your loved one to make sure that his or her personal needs are addressed. In addition, our caregivers will also render all the necessary services to ensure that your loved one is comfortable at home. This includes meal preparation, medication management, hygiene and toileting assistance, light housekeeping, and even running errands.
If you have loved ones with dementia living alone in Shreveport, LA, Comfort Keepers can help them live safely and comfortably at home. Feel free to contact us or give us a call at (318) 934-0090; our friendly staff will gladly help you find the caregiver that best suits you and your loved one's needs.
Alzheimer's Care in Shreveport, LA
Learn How Quality Alzheimer's Care Can Help Your Loved One in Shreveport, LA
Unfortunately, there is yet to be a cure for Alzheimer's disease. It remains to be a condition that many of our elderly will experience in their lives. However, there are many known treatments that can help make the lives of those afflicted with the condition much better. These treatments and therapies specifically address the physical as well as the social and behavioral aspects of the condition.
What most people don't realize, however, is that treatment for Alzheimer's is better resorted to even before the symptoms get worse. The sooner the Alzheimer's care, the more successful they tend to be in the future. All that early at home care will make sure that your loved one will be able to make the most of his or her senior years later.
Alzheimer's is a disease that progresses and later on seniors will start to experience different physical and behavioral patterns. These reactions could be caused by sudden changes such as having too much stimulation or large amounts of stress. These will then be manifested through the patient's outbursts and anxiety.
Thus it's important to make sure that your loved one is kept within a calm and familiar environment. Ideally, your loved one should be able to receive at home care.
Things to Be Considered for Alzheimer's Care
Keep a steady routine in order to avoid drastic changes which can worsen the condition. Make sure to also maintain a routine that is good for both physical and mental well-being.
Avoid situations that may make the senior feel anxious or uncomfortable. These things can cause unwanted outbursts from the person with Alzheimer's.
Minimize distractions, both visual and auditory for the same reasons above.
One must keep in mind; however, that Alzheimer's disease can impact every senior differently. This is why Comfort Keepers uses a personalized approach when providing Alzheimer's care so that each one can get at home care that's meant to cater specifically to their personal needs. Our Caregiver will perform all tasks necessary to ensure that your loved one lives a comfortable life within his or her own home.
Learn more about Alzheimer's and how you can better care for a loved one that has the condition. Comfort Keepers can also show you how its caregivers can greatly benefit your loved ones in Shreveport, LA.